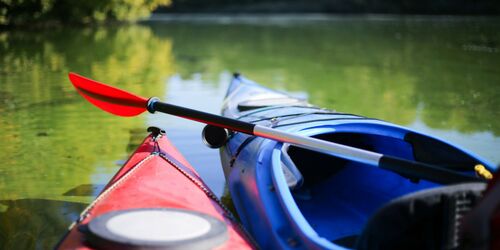 On the Pegnitz you can paddle for miles and miles through undisturbed nature. Although this Franconian river is not that wild, its currents, river bends and trees are still to be reckoned with. Inexperienced canoers can go on a guided trip or book a class, while those with more experience can hire a canoe and just start paddling. This is how your day might pan out: First you take the train to Rupprechtstegen. The boat hire place is right next to the station. Before setting off, you can regain your strength in the "Rastwaggon" beer garden near the station. Half way along the route, you'll reach the Pechwirt Guest House in Artelshofen, which is the ideal place for a spot of lunch. Then you paddle onwards until you reach Hohenstadt. You'll disembark at a point very close to the station.
Arrival
Kanutom
Am Bahnhof
91235 Röthenbach an der Pegnitz
Next station
Rupprechtstegen
Our tip: Please make sure to check your train connection and the expected capacity before you start your journey.
More destinations
Stand-up paddling (or SUP) is fun and incidentally tones your whole body. In the Nuremberg district... Sit back and relax: If you prefer something a little calmer, you can book a raft trip with Heiner... If at heart you've always been a cool surfer girl or brawny beach boy, you can let it shine in... Whether you're windsurfing or kiting, the force of the wind will see you tear across the largest... An idyllic location on Lake Constance in all weathers. You'll be spoiled for choice when you arrive... Possibly the most picturesque lido in Bavaria. A place of endless fun: Water lovers have been splashing around here for two centuries. For decades, the small Alpenblick Lido, with its café, pier and boat hire, has been a key... A lido for the water-shy? This is the place. Pack your swimwear and let's head for the local recreation area! This bike tour for the whole...
Share article

Email Copy link