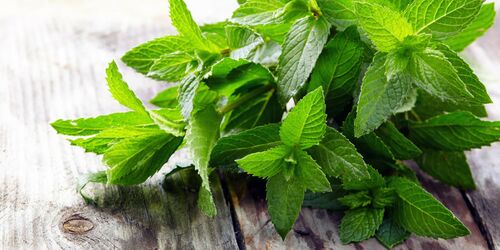 The little Upper Bavarian community of Eichenau was famous in Europe for its excellent mint for a long time. The peaty soil meant this medicinal plant grew with vigour. Cheap mint from abroad flooded the market in the mid 1950s. What remained is the Pfefferminzmuseum (peppermint museum), which provides information about the history, cultivation, harvesting and drying of mint. Plants are also grown on 500 square metres of land – which means authentic Eichenau peppermint tea. Sampling is allowed.
News, prices and opening hours are available here.
Arrival
Eichenau Pfefferminzmuseum (peppermint museum)
Parkstraße 43
82223 Eichenau
Next station
Eichenau (Oberbayern)
Our tip: Please make sure to check your train connection and the expected capacity before you start your journey.
More destinations
Are jeans American? No, sirree, this popular garment has its roots in Upper Franconia. Find out about long-lost crafts and technology: it's like taking a trip with Jules Verne. The Air Museum in Engelsburg castle in Amberg features air that you can hear, see and touch, spread... With its exciting exhibits, interactive features and workshops, we bet the children's museum in... At the Opern- und Konzertakademie (opera and concert academy) at Schloss Henfenfeld castle near... Bamberg is famous for its horticulture. Dive into the life and work of gardeners and wine makers... The thermal baths in Treuchtlingen have a special treat in store. The "Altmühltherme" baths are... Next stop: a chocolate paradise. This guided tour round Bernried first takes you to a place that... The whole world on a small scale: Here, young and old are whisked away on a journey through time... Culture beneath Nuremberg Castle
Share article

Email Copy link