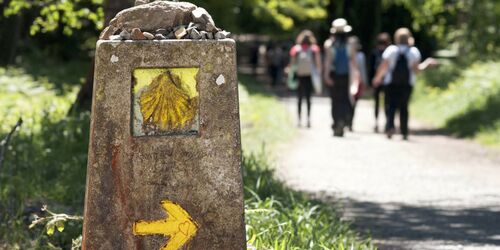 If you want to experience a pilgrimage route while only taking a short hike, you should set out from Aschaffenburg: it's about nine kilometres to get to Sulzbach am Main from there; easily doable without training. Got a taste for hiking? Then take the train further to Miltenberg. This little town by the Main river has a medieval town centre, and is certainly worth visiting. Not to mention it is only another nine-kilometre hike along the pilgrimage route away from the "wedding village" of Amorbach (which means Cupid brook in English), which has both a beautiful name and an abbey that is well worth a visit. Both legs are at the start of the Aschaffenburg-Colmar pilgrimage route.
Arrival
St. Peter and Alexander collegiate church, starting point
Stiftsgasse 5
63739 Aschaffenburg
Next station
Aschaffenburg Hbf (main station)
Our tip: Please make sure to check your train connection and the expected capacity before you start your journey.
More destinations
Hike along the ridges above the Retztal valley from the pilgrimage town of Retzbach to... Up to the most northerly lookout point in Bavaria: the Thüringer Warte tower near Ludwigsstadt is... In the north of Bavaria, the pilgrimage route runs from Hof to Nuremberg. For train travellers... Cast aside your shoes and socks and treat your senses to a walk across flagstones and spruce cones... This magnificent twelve-kilometre trail follows the river Naab and leads across the Danube to... Nature, culture and enjoyment await you in the Haßberge Nature Park! Sun-drenched vineyards and... After a around two-and-a-half hours of hiking from the station you will reach the rustic Tutzinger... A "four beers" tour in Bamberg: If beer is more your thing than walking, you should take a trip to... The August-Schuster-Haus, which is also called Pürschlinghaus, is a cabin situated above Schloss... Spectacular and blissfully convenient: The "Altmühltalweg" that runs between Pappenheim and...
Share article

Email Copy link
Your bookmarks