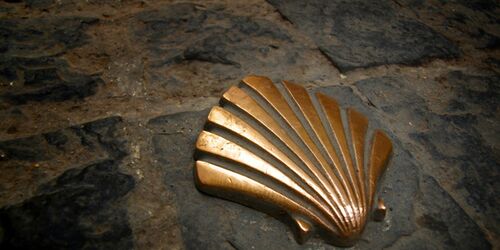 In the north of Bavaria, the pilgrimage route runs from Hof to Nuremberg. For train travellers, we recommend the day-long legs of Marktschorgast to Bayreuth (24 km) and Gräfenberg to Kalchreuth (20 km):
From Marktschorgast you'll first hike to the Himmelkron collegiate church, which was built in the 13th century. Continue along the ridgeway with a view of the Franconian forest and the Fichtel mountains, before you reach the beautiful festival city of Bayreuth, and make the way home by train.
The route from Gräfenberg in Franconian Switzerland towards Kalchreuth is largely through idyllic forest trails. The "Teufelstisch" (devil's table) is particularly worthy of a visit, as it is an impressive sandstone cliff formation. If your feet are already sore after five kilometres, you have the option to take the train back home from Igensdorf.
The last leg of the Nuremberg-Eichstätt pilgrimage route is particularly beautiful: starting from Altdorf, the route goes past the Mariä Himmelfahrt pilgrimage church in Buchenhüll, and onto one of the oldest crossroads in Bavaria, towards the episcopal town of Eichstätt. You can find the flyer about the whole route here.
Arrival
Lorenzkirche church, Hof
Bernecker Straße 6
95509 Hof
Next station
Marktschorgast
Our tip: Please make sure to check your train connection and the expected capacity before you start your journey.
More destinations
On the way by train to charming half-timbered buildings and impressive wineries. A hike through... Combine culture and nature on a hike in the Spessart. Along the European Cultural Trail you can... Forests and fields, great beer and irresistible food: Franconian Switzerland is home to the... It is said that goblins live in the middle of the forest not far from the southern edge of the town... Spectacular and blissfully convenient: The "Altmühltalweg" that runs between Pappenheim and... Even a simple stroll can be magical: dive into the world of fairy tales on the Schönwerth fairy... Nature, culture and enjoyment await you in the Haßberge Nature Park! Sun-drenched vineyards and... Idea for a day trip with a change of air: the Dillberg. Enjoy the view of the Nuremberg region on... After a two-and-a-half-hour walk from Pegnitz, you'll come to another stronghold of Franconian... If you want to experience that canyon feeling, you don't have to travel far. Near Garmisch, less...
Share article

Email Copy link
Your bookmarks