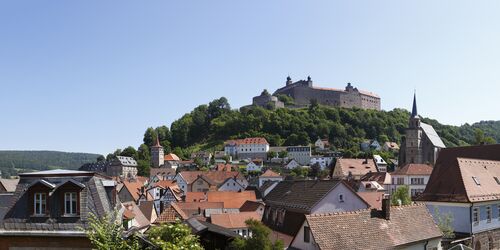 Anyone who has ever set foot in Kulmbach, or driven past it, is certain to have seen Plassenburg castle from a distance. It towers majestically above the little town and its 26,000 inhabitants, and is depicted on countless postcards on the stands in front of the souvenir shops. The people from Kulmbach are extremely proud of their castle, in which the Hohenzollern dynasty once lived and ruled. It is, after all, one of the most imposing Renaissance buildings in Germany and nearly 900 years old. Since its first reference in 1135, the castle has been under siege during several wars, stormed by enemies, was once a prison and held the rulers' least favourite relatives captive in its towers. These are the kinds of stories that you'll discover in the four museums contained within the castle walls.
The Museum of the Upper Main Region houses furniture and paintings from the past, giving visitors a sense of what life was like for the former citizens of Kulmbach. You'll also find a replica of the Elbstorf Map from the late 13th Century – the most comprehensive world map from the Medieval period. It is not a map with a true-to-scale depiction of the world, but represents the historical and theological knowledge of the time. Underneath the approximately 2,300 drawings, you'll see several illustrations of people and mythical creatures. Tip: the map also depicts Plassenburg castle. See if you can be the first to spot it!
In the German Tin Figure Museum, visitors can gaze in wonder at the largest collection of tin figures in the world. It includes 300,000 miniature Romans, Germans, knights, farmers and fairytale characters. It also has the largest diorama in the world – a three-dimensional showcase used to depict a scene. 19,385 tin figures have been painted with the utmost detail and depict the moment when Bohemian troops almost completely destroyed Kulmbach on 26 November 1553.
What was it like to live in the castle as a member of the Hohenzollern House? The Hohenzollern in Franconia Museum is located in the former residential quarters from this dynasty, and gives visitors an impression of what a Baroque lifestyle in Plassenburg castle would have been like. Other rooms in the museum portray how the castle interior changed from medieval times through to the Prussian dynasty.
The Frederick the Great Army Museum paints a vivid picture of what it was like to be a soldier in the 18th Century. You'll discover how they were paid, what a gauntlet actually is, and whether camp life meant adventure or danger for the soldiers. In addition to this exhibition, visitors can explore the world's largest collection of old amazing Prussian firearms, as well as an array of flags and paintings.
More information, opening hours and entry prices can be found here.
After your stroll through the history of Kulmbach, you're bound to feel a hunger pang or two. It's a good thing that Franconia is famous for its cuisine! One particular speciality from Kulmbach is called "Blaue Zipfel", which is a Bratwurst cooked in a vinegar brew and served with onions and a bread roll. You can buy a portion in the restaurant Kommunbräu Kulmbach. And why not accompany your sausage dish with a refreshing regional beer, seeing as you're already there. Kulmbach is – after all – the unofficial capital city of beer, with its seven breweries. Every month in the "Kommunbräu" restaurant, you can also try a special variety of beer, in addition to the classic light and Bernstein beers.
Directions: The castle is a 20-minute walk from Kulmbach station. From the station, head east along "Heinrich-von-Stephan-Straße". After around 90 metres you'll come to a junction. Turn right down "Kronacher Straße". After another 140 metres it turns into "Sutter Straße". Keep following this road until it crosses "Grabenstraße", at which point you turn left. Walk along this road and after 100 metres or so turn right down "Röthleinsberg". After 200 metres, turn left down "Obere Buchgasse". Follow this road until it forks and then turn right. Then you'll come to the road "Festungsberg". Keep left and continue down this road until you reach your destination.
"Kommunbräu Kulmbach" is just a 14-minute walk from the castle. Walk back along "Festungsberg" in the direction from which you came. At "Obere Buchgasse", make a sharp right and stay on this road until it forks. At this point, turn left down "Gutmanngäßchen". Follow it round until you reach "Fischergasse" and then turn right. The road soon turns into "Grünwehr". Continue down this road until it forks and then bear right. The address is: Grünwehr 17.
Arrival
Museum of the Upper Main Region Foundation
Festungsberg 26
9532 Kulmbach
Our tip: Please make sure to check your train connection and the expected capacity before you start your journey.
More destinations
Memmingen's medieval townscape on the edge of the Allgäu is fascinating with its well-preserved... A leaning tower, the supposed tomb of Dracula and a bulging picnic basket await you on this magical... A place where "strong men" live: This is where the children's film "Wickie und die starken Männer"... For traditionalists: master butcher and chef Norbert Wittmann founded the Weißwurst-Akademie... Back in 1150, this castle was home to the Count of Loon and Rieneck. But these days, you'll mainly... The largest stalactite in Germany. You certainly won't want for things to see in the Maximilian... Nature, culture and enjoyment await you in the Haßberge Nature Park! Sun-drenched vineyards and... There is a very special type of hunting museum right on Mühldorf town square. It is called... Learn from the best! At Confiserie Lauenstein you can look over chocolatiers' shoulders, as they... The perfect bike tour for nature lovers and connoisseurs: From Würzburg, the route leads to the...
Share article

Email Copy link
Your bookmarks