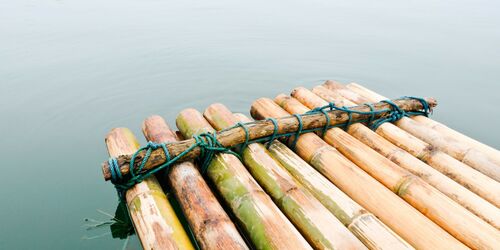 If you prefer something a little calmer, you can book a raft trip on the Isar with Heiner Thalmayer. He has been shipping passengers across the river with his team for more than 30 years. On board there are pretzels, beer, music and "Leberkäse" (Bavarian meat speciality). If it's the right season you may even stop for a swimming break. The trips usually begin in the early morning at the Floßlände in Munich-Thalkirchen. From there you take the bus to Wolfratshausen, where your fun and fluvial journey begins.
Arrival
Floßlände in Munich Thalkirchen
Floßlände
81379 Munich
Next station
Wolfratshausen
Our tip: Please make sure to check your train connection and the expected capacity before you start your journey.
More destinations
Paddle down the Pegnitz in a canoe or kayak. On the Pegnitz you can paddle for miles and miles... Stand-up paddling (or SUP) is fun and incidentally tones your whole body. In the Nuremberg district... Whether you're windsurfing or kiting, the force of the wind will see you tear across the largest... If at heart you've always been a cool surfer girl or brawny beach boy, you can let it shine in... This riverside lido has something for everyone. The river Regen is the second-longest river in the Upper Palatinate, and for visitors in... An idyllic location on Lake Constance in all weathers. You'll be spoiled for choice when you arrive... Would you rather bask in the hot sun or cool off with a chilled beer? In Seeshaupt, you can have... For decades, the small Alpenblick Lido, with its café, pier and boat hire, has been a key... A visit to the Hainbadestelle Lido in the Luisenhain Park in Bamberg has become a tradition. On hot...
Share article

Email Copy link