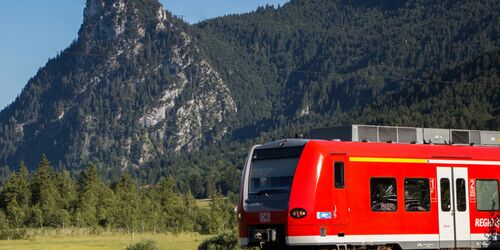 Kempten–Immenstadt–Lindau: The "Allgäubahn" will chauffeur you through the idyllic Alpine foothills and its luscious green slopes, before crossing an embankment and arriving at Lindau Island – right in the middle of Lake Constance.
Arrival
Kempten main station (Allgäu)
Bahnhofsplatz 2
87435 Kempten
Next station
Kempten (Allgäu) Hbf (main station)
Our tip: Please make sure to check your train connection and the expected capacity before you start your journey.
More destinations
If you would like to have a look round the city away from the usual sights, we recommend taking the... Our insider's tip for railway travellers will lead you through a picturesque landscape. Find out... This railway track winds its way through the foothills of the Alps, past a glorious panoramic... A royal lifestyle in the heart of northern Bavaria: Coburg in Upper Franconia is the right place... Do you like the mystery of the forest and the diversity of nature? Then this railway traveller's... Go on a voyage of discovery through the historic town of Amberg - the former capital of the Upper... As you gaze through the window of the train at the Upper Bavarian Alpine foreland and the Zugspitze... Bertolt Brecht allegedly said that "the nicest thing about Augsburg is the train to Munich." Of... The Karwendelbahn cablecar at Mittenwald only needs a few minutes to whisk visitors from an... A ride on the Zugspitzbahn is an experience! It is one of only four rack railways in Germany and...
Share article

Email Copy link