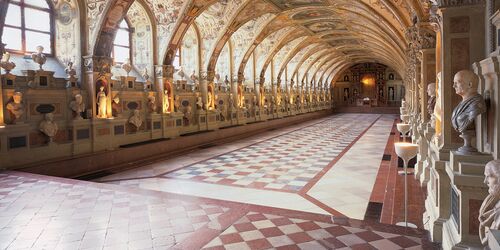 Destination
Tracing the history of Bavaria's kings at the Munich Residence and neighbouring Hofgarten
Travel back to a past that is long gone. A visit to the royal palace and adjoining Hofgarten ("court garden") park gives you an opportunity to learn about this history of the royal Wittelsbach family and architectural styles from different eras.
Once the home and seat of government (1508-1918) of Bavaria's Wittelsbach dukes, electors and kings, the Munich Residence is, to this day, Germany's largest city-centre palace and one of Europe's most important museum palaces. This splendid legacy of the former ruling dynasty, which shaped Bavaria's history for over 700 years, is located between Odeonsplatz and Max-Joseph-Platz in the heart of Munich. When you walk through its rooms, you are taking a journey through time and different artistic periods: Renaissance, early Baroque, Rococo and Neoclassicism. Most of the palace's original furnishings are still in the rooms they were designed for, giving you an authentic impression of how Bavaria's monarchs lived. Originally a Gothic castle started in 1385, the Residence is now a sprawling complex. One of its highlights is without doubt the Antiquarium, one of the largest Renaissance halls north of the Alps. Built to house the collection of classical sculptures assembled by Duke Albrecht V., this magnificent room served as a hall for celebrations and banquets in later centuries. Slightly hidden but well worth finding is the Cuvilliés Theatre, one of Germany's most beautiful Rococo playhouses. With its powerful colour scheme in red and gold, the four-storey interior from a bygone age still dazzles the audiences who come to see performances here. A tip: to make the very most of your experience here, try to get a seat in one of the small boxes when you book a ticket.
If you'd like to take a look at the Wittelsbachs' jewels, head for the treasury in the palace. Today, it contains over 1,200 individual items, such as the Bavarian crown jewels and a Romanesque chalice associated with Emperor Henry II, that bear witness to Bavaria's history down through the ages.
News, prices and opening hours are all available here.
The Hofgarten park next to the palace is now a less formal place than it used to be: in the past, it was reserved for the ruling family, but now it's open to the public and is a place where tourists and locals alike come for a bit of peace and quiet. Built by Heinrich von Schön the Elder in 1615, the Dianatempel pavilion is an eye-catching feature in the park. Thanks to its fine acoustics, it is popular with musicians who often use it for small, free concerts. It's also perfect for dancing the tango. If you'd like to just relax and take in the peaceful atmosphere, simply select one of the benches, which display lovely dedications from Munich residents to their nearest and dearest. Weather permitting, the Hofgarten is also a popular meeting point for boules players, who use its gravel paths for their tournaments.
If you're peckish after completing your journey through time, the park has two bars that offer a range of snacks. If you'd like more than just a morsel, walk down Residenzstrasse from Odeonplatz until you reach no. 9. Zum Franziskaner is a restaurant that serves traditional Bavarian fare around the clock and at good prices.
Getting here: Leave the main station via an exit on the northern side (Arnulfstrasse). Go right and walk straight on. Leaving the station and its forecourt behind you, cross the square called Stachus and walk down Kaufingerstrasse until you reach Marienplatz. Go left at the fish fountain and walk for 10 minutes until you reach Odeonsplatz. The entrance to the Residence is to the right.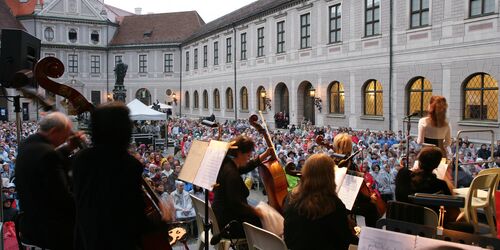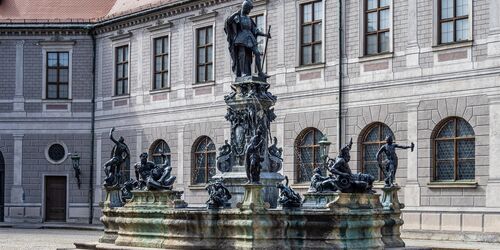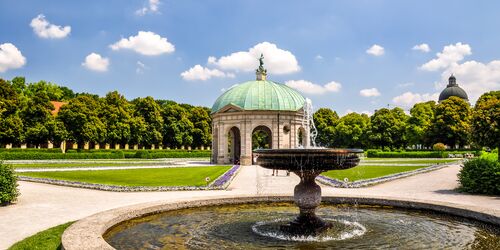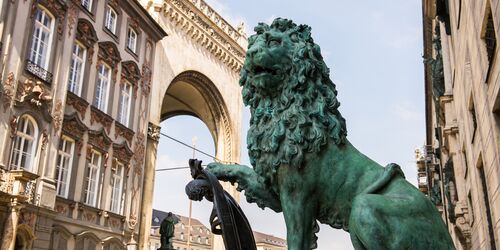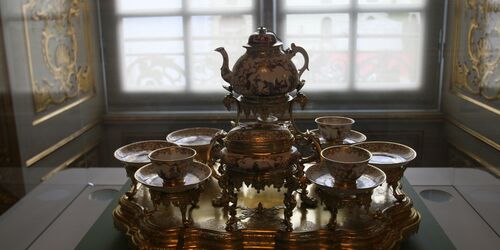 Arrival
Residenz Munich
Residenzstraße 1
80333 Munich
Next station
München Hbf (Munich main station)
Our tip: Please make sure to check your train connection and the expected capacity before you start your journey.
More destinations
Fürth can not only call itself "the city with the highest density of monuments in Bavaria", it... The island town of Lindau owes its reputation as Bavaria's riviera to its blend of Art Nouveau... Would you like to go on an impressive hike through the vineyards of Franconia? Then set off for... One of the possible starting points along this 18.7-kilometre route is the spa park in Bad Steben... Walk in the historical footsteps of over 2,000 years in Kempten, one of the most beautiful places... Do you prefer building your fairy tale world out of little blocks? Then head on over to Legoland... Insider tip for architecture and art lovers: The Rosenberg Fortress in Kronach takes you back to... The artisans' yard is a collection of small workshops that lets visitors see a living tradition of... Every Sunday, visitors are enticed to Brombachsee lake for a three-hour brunch boat ride on the MS... Sumptuous flowers: tiny Bernried was chosen as one of Germany's most beautiful villages in 2009.
Share article

Email Copy link
Your bookmarks