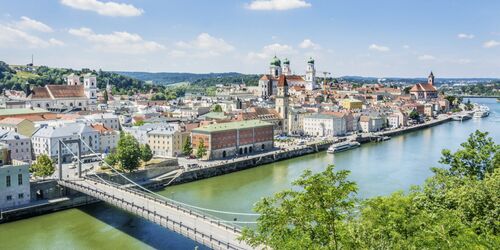 The Roman museum was built on the foundations of the late-Roman Kastell Boiotro castle. Remains of the castle wall and the watchtowers can still be seen today. Audio presentations, films and light installations bring history to life.
News, prices and opening hours are available here.
Arrival
Roman museum in Passau
Lederergasse 43-45
94032 Passau
Next station
Passau Hbf (main station)
Our tip: Please make sure to check your train connection and the expected capacity before you start your journey.
More destinations
Bamberg is famous for its horticulture. Dive into the life and work of gardeners and wine makers... Old vehicles, modern technology and exciting facts – the Deutsche Bahn Museum in Nuremberg is... If you're wanting a cinema experience with a cultural twist, you should drop by the Filmmuseum in... Scores of different art movements under a single roof. The Lenbachhaus gallery has the world's... In Augsburg's Spitalgasse 15, you can admire the all-familiar puppets such as Jim Knopf or Urmel... A historic museum with modern relevance, the Jewish Museum Augsburg shows the development of Jewish... Located right beside the river Main, the old grain storage facility combines an industrial... The castle, sometimes called "Die Neue Veste", already merits a visit just for its sheer size and... The little town situated on the Upper Main river is the wicker capital of Germany. If you would... Find out about long-lost crafts and technology: it's like taking a trip with Jules Verne.
Share article

Email Copy link