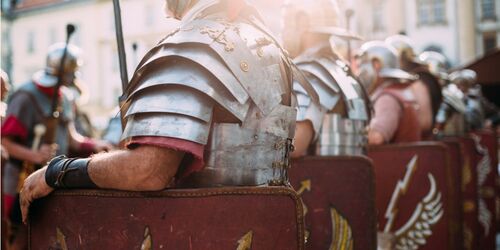 Due to its location right by the limes, the little Middle Franconian town of Weißenburg became a Roman stronghold. If you want to see everything there is here, you will definitely need a little fortification halfway through. Make a reservation at the "Schwarzer Bär" inn and indulge like they did back in Ancient Rome. Ten original recipes, which were recorded by the gourmet Marcus Gavius Apicius in 25 BC, are used to cook the dishes.
A post-meal stroll takes you to the Römischen Thermen (Roman baths). It doesn't matter how full you are when you arrive, you won't have any trouble keeping your head above water. The bathing complex is no longer in operation, but well-maintained nevertheless. Other sites worth visiting include the partially reconstructed Kastell Biriciana Roman fort as well as the RömerMuseum (Roman museum) and the Bavarian limes information centre.
If you want to follow in the footsteps of the Romans, then hop on a 616 bus towards Burgsalach at Weißenburg station. The Römererlebnispfad (Roman experience trail) begins by the village's sports ground. The two routes with a hiking time of two-and-a-half or four hours, and a combined length of 18 kilometres, lead along the limes World Heritage Site and the Roman road running parallel. Eleven stops, including numerous display boards, the foundation walls of a soldiers' barracks, as well as a reconstructed wooden tower, provide cultural enrichment along the way.
Arrival
Weißenburg

81781 Weißenburg
Next station
Weißenburg (Bayern)
Our tip: Please make sure to check your train connection and the expected capacity before you start your journey.
More destinations
A leaning tower, the supposed tomb of Dracula and a bulging picnic basket await you on this magical... Plassenburg castle is nearly 900 years old and was once the centre of power of the House of... Neu-Ulm's Edwin Scharff Museum is a unique institution that contains an interactive children's... For traditionalists: master butcher and chef Norbert Wittmann founded the Weißwurst-Akademie... It doesn't get fresher than this. At the Holzen Abbey in Allmannshofen, breakfast is turned into... The castle museum's large collection of paintings shows the lasting impression that Murnau and its... Beer tour from Coburg to Rödental: Quench your thirst in the myriad of beer gardens and beer... Let yourself be enchanted by the historic flair of the old town on a walk through Rothenburg: the... The island town of Lindau owes its reputation as Bavaria's riviera to its blend of Art Nouveau... This is a place where everything unites: the traditional and the modern, East and West, and the...
Share article

Email Copy link