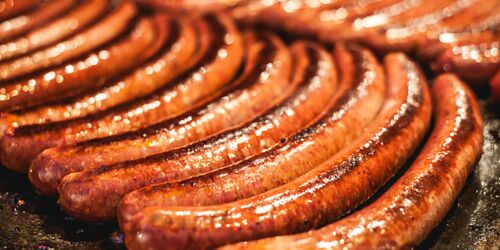 A half-metre-long, thin sausage that is somewhere between a Bratwurst and a Bockwurst in flavour, spicy, and with a special onion sauce: the Feuerwurst (fiery sausage) is a cult favourite in Würzburg. It was invented at the Treziak food stall, and the recipe for the spice mixture is a well-kept secret. At festivals and markets in Würzburg and the surrounding areas, the Feuerwurst goes on tour in a food van. You can find the Treziak kiosk year-round at the Unterer Markt in Würzburg, about a ten-minute walk from the station. More information and the tour itinerary of the Feuerwurst can be found here.
Arrival
Feuerwurst
Marktplatz
97070 Marketplace Würzburg
Next station
Würzburg Hbf (main station)
Our tip: Please make sure to check your train connection and the expected capacity before you start your journey.
More destinations
Are all farmers in the east of Bavaria gloomy? The name of this sausage speciality sounds... When the men equipped with a basket and brass boiler lift the cover, the aroma of hot sausages... The Cantina Diakonia in Munich employs people who are down on their luck in the job market. The Bratwurstglöcklein restaurant is located a few steps from Nuremberg's main station. "Drei im Weggla" – Nuremberg residents know immediately what this means: three small, crispy... Andechs Monastery with its bell tower is situated on the east bank of the Ammersee lake. Beer has... The Alter Simpl restaurant in Erlangen is right near the station and has a menu that boasts... Swabia is not only famous for its Spätzle (traditional Swabian dish) – the Rote Wurst (red... People on a night out gather in front of the popular Arkadas Döner kebab shop late into the night. Passau experts agree on one thing: the best Greek restaurant in the city is only five minutes from...
Share article

Email Copy link
Your bookmarks