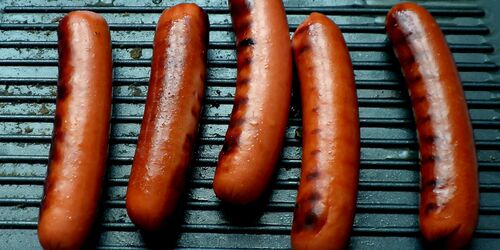 Swabia is not only famous for its Spätzle (traditional Swabian dish) – the Rote Wurst (red sausage), or simply just Rote (red), is a speciality of this region. Its shape and consistency is similar to that of a Bockwurst, the colour comes from the reddish skin, and the pink sausage meat is made of pork and bacon. The Rote is a permanent fixture at food stalls all around the region, and there are particularly good ones on Wednesdays and Saturdays at the Horlacher Bratwurstecke stall at the Neu-Ulm weekly market in Petrusplatz square (about a five-minute walk from the station).
Arrival
Neu-Ulm weekly market
Petrusplatz
89231 Neu-Ulm
Our tip: Please make sure to check your train connection and the expected capacity before you start your journey.
More destinations
Be warned: these excursion tips may not be to vegetarians' tastes. Because it's all about sausages... Are all farmers in the east of Bavaria gloomy? The name of this sausage speciality sounds... "Drei im Weggla" – Nuremberg residents know immediately what this means: three small, crispy... You won't have to search for long if you arrive in Bayreuth hungry – sushi restaurant Lamondi... The Bratwurstglöcklein restaurant is located a few steps from Nuremberg's main station. People on a night out gather in front of the popular Arkadas Döner kebab shop late into the night. The Alter Simpl restaurant in Erlangen is right near the station and has a menu that boasts... When the men equipped with a basket and brass boiler lift the cover, the aroma of hot sausages... Passau experts agree on one thing: the best Greek restaurant in the city is only five minutes from... About ten minutes from Würzburg main station is where you can get possibly the largest pizzas in...
Share article

Email Copy link
Your bookmarks