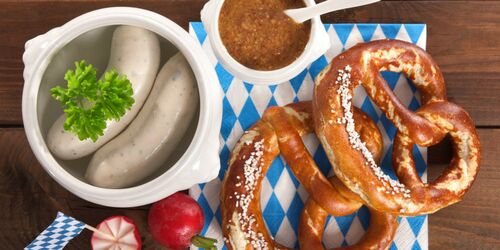 Last but not least, there is one thing not to be missed on a Bavarian sausage discovery tour, and that is the Weißwurst. According to legend, it was created right on Marienplatz square in Munich, on Carnival Sunday in 1857: Sepp Moser, the landlord of the "Zum ewigen Licht" inn, ran out of sheep intestines for Bratwursts so instead, he stuffed the sausage meat into pig intestines. Out of fear that the skins would burst when fried, he boiled them in hot water instead – and thus Weißwurst was created. Today, the "Café am Marienplatz" café stands in the location where the Weißwurst was created. You can order a Weißwurst there as well.
News and opening hours are available here.
Arrival
Café am Marienplatz
Marienplatz 18
80331 Munich
Next station
München Hbf (Munich main station)
Our tip: Please make sure to check your train connection and the expected capacity before you start your journey.
More destinations
Are all farmers in the east of Bavaria gloomy? The name of this sausage speciality sounds... Be warned: these excursion tips may not be to vegetarians' tastes. Because it's all about sausages... When the men equipped with a basket and brass boiler lift the cover, the aroma of hot sausages... The Cantina Diakonia in Munich employs people who are down on their luck in the job market. The Alter Simpl restaurant in Erlangen is right near the station and has a menu that boasts... Swabia is not only famous for its Spätzle (traditional Swabian dish) – the Rote Wurst (red... You won't have to search for long if you arrive in Bayreuth hungry – sushi restaurant Lamondi... "Drei im Weggla" – Nuremberg residents know immediately what this means: three small, crispy... About ten minutes from Würzburg main station is where you can get possibly the largest pizzas in... The Milzwurst (spleen sausage) is most beloved in Lower Bavaria. What makes it so special? Take a...
Share article

Email Copy link
Your bookmarks