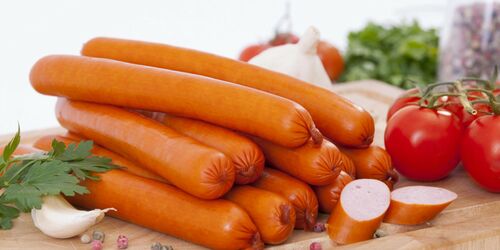 When the men equipped with a basket and brass boiler lift the cover, the aroma of hot sausages wafts through Hof. The sausages are called "Wärschtla" here. A sausage seller with a brass boiler is called a "Wärschtlamo" (meaning sausage man). The Wärschtlamos of Hof have been an essential part of the town since 1871. Wiener, Knackwurst (a type of sausage widespread throughout Germany), Weißwurst or Bauernwurst (a spicy German sausage) all swim together in a hot water bath. This way, every sausage is infused with a special flavour that you can only get from the Wärschtlamo. Tempted yet? The Wärschtlamänner can be found spread out all around the town centre. This can be reached in five to ten minutes from the station. Additional information including a phrasebook of Wärschtlamo German for non-Franconians, can be found here.
Arrival
Wärschtlamos
Karolinenstraße
95028 Hof
Next station
Hof Hbf (main station)
Our tip: Please make sure to check your train connection and the expected capacity before you start your journey.
More destinations
"Drei im Weggla" – Nuremberg residents know immediately what this means: three small, crispy... There is one thing you cannot miss on your sausage discovery tour, and that is the Weißwurst... Andechs Monastery with its bell tower is situated on the east bank of the Ammersee lake. Beer has... About ten minutes from Würzburg main station is where you can get possibly the largest pizzas in... Passau experts agree on one thing: the best Greek restaurant in the city is only five minutes from... Swabia is not only famous for its Spätzle (traditional Swabian dish) – the Rote Wurst (red... "From field to saucepan" – vegan chef Sebastian Copien lives by his motto and delights in sharing... Be warned: these excursion tips may not be to vegetarians' tastes. Because it's all about sausages... The Cantina Diakonia in Munich employs people who are down on their luck in the job market. The Alter Simpl restaurant in Erlangen is right near the station and has a menu that boasts...
Share article

Email Copy link
Your bookmarks