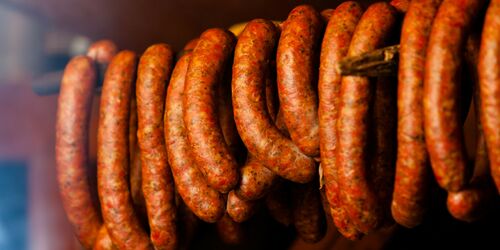 Are the farmers in the east of Bavaria particularly gloomy? The name of this Upper Palatinate sausage speciality certainly sounds melancholic: Bauernseufzer, or "farmer's sigh" in German. There's nothing to complain about there. The smoked, dark pork sausages not only go perfectly with Upper Palatinate beer, but are also tasty either hot or cold. Horseradish is a must. Secret tip: they are the best freshly smoked. The sausage also has another name in German which evokes an image of smoky chimneys. The Landmetzgerei Braun butcher serves very good ones. The main branch in Weiherhammer (but also the ones in Etzenricht and Weiden) is within walking distance from the station.
Arrival
Landmetzgerei Braun butcher
Hauptstraße 20
92729 Weiherhammer
Next station
Weiherhammer
Our tip: Please make sure to check your train connection and the expected capacity before you start your journey.
More destinations
The Milzwurst (spleen sausage) is most beloved in Lower Bavaria. What makes it so special? Take a... There is one thing you cannot miss on your sausage discovery tour, and that is the Weißwurst... You won't have to search for long if you arrive in Bayreuth hungry – sushi restaurant Lamondi... Andechs Monastery with its bell tower is situated on the east bank of the Ammersee lake. Beer has... The Alter Simpl restaurant in Erlangen is right near the station and has a menu that boasts... People on a night out gather in front of the popular Arkadas Döner kebab shop late into the night. When the men equipped with a basket and brass boiler lift the cover, the aroma of hot sausages... "Drei im Weggla" – Nuremberg residents know immediately what this means: three small, crispy... Swabia is not only famous for its Spätzle (traditional Swabian dish) – the Rote Wurst (red... The Cantina Diakonia in Munich employs people who are down on their luck in the job market.
Share article

Email Copy link
Your bookmarks