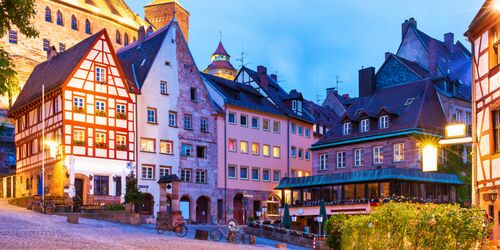 Historical guided tours are not generally known for being especially exciting or entertaining. However, in Nuremberg, Bamberg or Munich, things are different: Through the course of their long and rich history, a number of gruesome events have taken place in these old Bavarian towns and cities; events which are just waiting to be discovered on a guided tour. Medieval times were particularly grim. A tour guide dressed in historical clothing will take you down the passageways of the old town at night. This includes, for example, following the Nürnberger Geisterwege ghost trail in Nuremberg. You will learn about headless ghosts and why all the bells ring at nine in the city on this tour. Current tours, dates and prices can be found here.
In Bamberg there is a witch tour. Stories from the era of witch hunts are part of a shameful chapter of the town's history; however, there are also more pleasant legends and customs which have been preserved until this day. You will learn about all of these on the tour which lasts approximately 1.5 hours. More details can be found here.
Munich also offers visitors as well as residents the chance to learn a great deal about the city's spooky secrets. The tour takes you through the eeriest areas in Munich's old town. Be it the fat ghost of the Maxtor gate, the story of the cold-hearted miser on Promenadenplatz square, or the role of the devil in the construction of the Frauenkirche church. You may have suspected it, but this just confirms: things weren't always quite right in Munich. Details about the tour can be found here.
Warning: If you're travelling with children, please check ahead to make sure this tour is not too scary. Even skittish adults might be frightened here and there.
Arrival
Nürnberger Geisterwege ghost trail
Hauptmarkt 18
90403 Nuremberg
Next station
Nürnberg Hbf (Nuremberg main station)
Our tip: Please make sure to check your train connection and the expected capacity before you start your journey.
More destinations
Go on a voyage of discovery through the historic town of Amberg - the former capital of the Upper... Beer tour from Coburg to Rödental: Quench your thirst in the myriad of beer gardens and beer... A royal lifestyle in the heart of northern Bavaria: Coburg in Upper Franconia is the right place... Here, your healthy get-away doesn't end after class. Hotel HUBERTUS offers yoga classes and multi-day yoga retreats throughout the year. The city's botanical gardens take you on a special kind of trip around the world, to the flora of... The "Barfüßer Hausbrauerei" brewery and beer garden are situated right in the heart of Memmingen.... If you want to experience a pilgrimage route while only taking a short hike, you should set out... Nuremberg's oldest private theatre has its own ensemble. Training strength and dexterity for free in Munich? No problem on the fitness trails which are...
Share article

Email Copy link
Your bookmarks