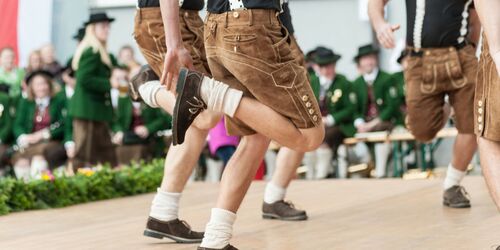 If you're already equipped with Lederhosen and strong calves, then you're ready for a "Schuhplattler" dance lesson at "Almrausch-Stamm" in Munich. You can drop by their "Plattler" practice classes for free, as long as you phone up in advance. A 15-minute bus ride from Munich Ostbahnhof station will get you to the practice rooms in Munich Perlach.
For further information please click here.
Arrival
Pfarrsaal St. Michael
St.-Koloman-Straße 7
81737 Munich
Next station
München-Perlach
Our tip: Please make sure to check your train connection and the expected capacity before you start your journey.
More destinations
Let yourself be inspired by the flair of the old town and its sights on a walk through Kitzingen:... On the way by train to charming half-timbered buildings and impressive wineries. A hike through... Discover imposing castles and palaces in the idyllic Sinn river valley. This hike in the north-east... The 6.8-kilometre "Donausteig" route starts at St. Stephens Cathedral in Passau, and is the perfect... It doesn't get fresher than this. At the Holzen Abbey in Allmannshofen, breakfast is turned into... This hike will take you around multiple Franconian breweries, where you will also get to know the... Get on the saddle and explore the small towns of the Pfaffenwinkel! On this tour through the... Tall chestnut trees, drinkable beer and fine delicacies: the Hofbräukeller on Wiener Platz has... A hike in Iffeldorf around the Caribbean-blue Easter Lakes with a dreamlike mountain panorama - for... Neu-Ulm's Edwin Scharff Museum is a unique institution that contains an interactive children's...
Share article

Email Copy link
Your bookmarks