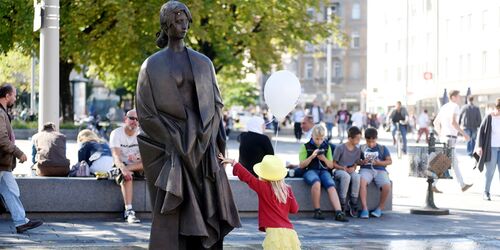 Augsburg is an excellent place for a spot of shopping. Set amongst a backdrop of historical stately buildings, fountains and churches, the inner city has around 800 different stores, boutiques and speciality shops. The city centre and the popular pedestrian zone and "Annastraße" are just a minutes walk from the station. From there, the old town is also just a stone's throw away. Its quaint streets are filled with small, owner-occupied shops, pubs and cultural institutions. If you're on the lookout for something special, you're bound to find it here. The Stadtmarkt market, situated in the inner city, is a place where you can indulge yourself and sightsee to your heart's content – perfect for if you're in need of a short break from all that shopping. And if it rains, you can explore the City Galerie Augsburg, which has more than 100 shops to browse. The "Augsburg city website" also has an interactive map, on which the various shops and city centre hotspots are indicated. You can search for shops, sights to see, restaurants, cultural points of interest, and places to go with the family.
Arrival
Stadtmarkt Augsburg
Fuggerstraße 1
86150 Augsburg
Next station
Augsburg Hbf (main station)
Our tip: Please make sure to check your train connection and the expected capacity before you start your journey.
More destinations
The Franconian metropolis of Nuremberg has much more to offer than the world-famous... Just a short walk away from the station lies the "Jahnufer" riverbank (in Neu-Ulm), and from here... If you're looking for a guided tour that is in no way boring, you should book a night-time tour... Even though your intention may be to have a gentle stroll, you'll find that your pace will... The artisans' yard is a collection of small workshops that lets visitors see a living tradition of... Drink a glass of wine on the Old Main Bridge, admire your reflection in the palace's imperial hall... Attention culture lovers and connoisseurs! This city walk takes you past the architectural and... Dachau impresses with its unique art history and numerous interesting excursion destinations. In... The Porta Praetoria is hidden away between bars, the Danube and Regensburg cathedral. It is one of... Is the diversity of Aschaffenburg's excursion destinations due to its Mediterranean flair? Here,...
Share article

Email Copy link
Your bookmarks