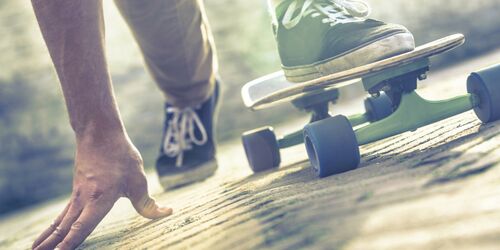 Didn't you always used to think that those kids with the skateboards were always the coolest ones? If you think skating up and down the street is a bit boring you can test your limits in this skate park:
The vast open-air Skatepark Holzkirchen is the perfect place to show off new tricks – or to seek advice from other skaters, if things don't quite work out as planned. There's a half bowl, quarter pipe and lots of other obstacles for you to test your skills. The park isn't far from the S-Bahn station – no more than a 4-minute walk.
For further information please click here.
Arrival
Skatepark Holzkirchen
Am Ladehof 4
83607 Holzkirchen
Our tip: Please make sure to check your train connection and the expected capacity before you start your journey.
More destinations
Slow speed ahead! Take a ride in a Zeppelin balloon and you'll get more than just a sightseeing... Attention nature lovers! Discover the impressive moorland landscape of Murnau by bike. Experience... Hotel HUBERTUS offers yoga classes and multi-day yoga retreats throughout the year. Spectacular and blissfully convenient: The "Altmühltalweg" that runs between Pappenheim and... For big kids: both little and big kids can have a go at operating monster excavators, wheel loaders... In the Rottal valley you will not just find an exercise trail, but an entire fitness park. You can... This is a place where everything unites: the traditional and the modern, East and West, and the... The yoga retreat house "Yoga Vidya Ashram Allgäu" is situated at an altitude of 960 metres and... Learn how to milk animals – the Eichenmüller family make sure that your visit is an adventure. Petting zoo for the kids, wellness for the parents, and the motto: "Happy children – rested...
Share article

Email Copy link
Your bookmarks