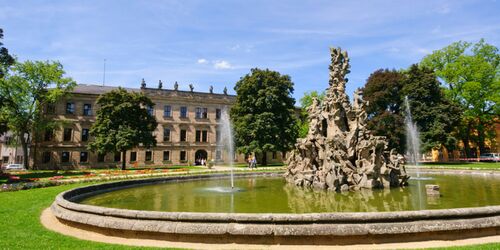 Sportland Erlangen leisure centre is a five-minute walk away from the station. How about a quick round of bowling for example?
If you prefer something a bit quieter you can instead go for a stroll around the palace gardens at the Schloss Erlangen palace estate. This is also five minutes away.
News, courses and opening hours are available here.
Arrival
Sportland Erlangen leisure centre
Münchener Straße 55-57
91054 Erlangen
Our tip: Please make sure to check your train connection and the expected capacity before you start your journey.
More destinations
Since 2012, Aschaffenburg main station has been graced with the title of "Station of the Year". Snakes, lizards, tortoises and poison dart frogs – over 135 animals live at the Reptilienhaus... Right next to the railway station, the Alte Simpl in Erlangen has everything Franconian cuisine has... The station in this market town links the past with the present Swabia is not only famous for its Spätzle (traditional Swabian dish) – the Rote Wurst (red... Do you want a taste of the Caribbean on your day at the thermal bath? The palms and azure water at... Are all farmers in the east of Bavaria gloomy? The name of this sausage speciality sounds... The Cantina Diakonia in Munich employs people who are down on their luck in the job market. "Drei im Weggla" – Nuremberg residents know immediately what this means: three small, crispy... Get off the train - and into the wellness paradise to relax, improve your health or simply have a...
Share article

Email Copy link