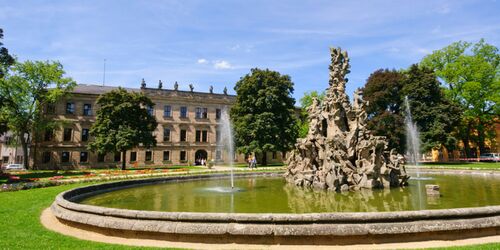 Sportland Erlangen leisure centre is a five-minute walk away from the station. How about a quick round of bowling for example?
If you prefer something a bit quieter you can instead go for a stroll around the palace gardens at the Schloss Erlangen palace estate. This is also five minutes away.
News, courses and opening hours are available here.
Arrival
Sportland Erlangen leisure centre
Münchener Straße 55-57
91054 Erlangen
Our tip: Please make sure to check your train connection and the expected capacity before you start your journey.
More destinations
Be warned: these excursion tips may not be to vegetarians' tastes. Because it's all about sausages... The Inn, the Donaulände area and monastery gardens can all be reached from the station in five to... You can see about 500 birds from all over the world in aviaries, pavilions, pond areas and outdoor... The station in this market town links the past with the present About ten minutes from Würzburg main station is where you can get possibly the largest pizzas in... Fancy relaxing in nature or enjoying a cappuccino with a fifty's flair? For the former, we... Are all farmers in the east of Bavaria gloomy? The name of this sausage speciality sounds... The Alter Simpl restaurant in Erlangen is right near the station and has a menu that boasts... People on a night out gather in front of the popular Arkadas Döner kebab shop late into the night. "Drei im Weggla" – Nuremberg residents know immediately what this means: three small, crispy...
Share article

Email Copy link
Your bookmarks