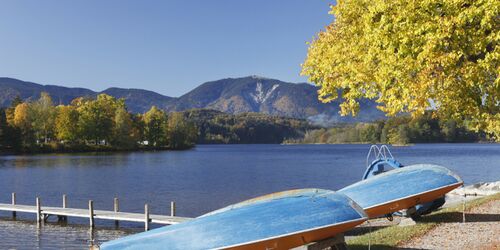 Perhaps a trip on the lake on the MS Seehausen will make you want to take a dip? The Staffelsee lake is one of the warmest bodies of water in Bavaria, which means swimming season starts earlier here than anywhere else. An extra tip for the summer months: from June onwards, you can see the sun disappear below the horizon on moonlight rides. Having a regional day ticket for Bavaria also means you get a discounted ticket year-round.
Arrival
Staffelsee lake
Johannisstraße
82418 Seehausen am Staffelsee
Our tip: Please make sure to check your train connection and the expected capacity before you start your journey.
More destinations
Exploration tour with the Brombachsee. Set sail on the MS Brombachsee trimaran and get to know the... The majestic round trip takes you past the chic properties by the bank, Possenhofen Castle (also... At Lake Constance in the border triangle, seafaring hearts beat faster: between Bregenz in Austria... This artificial lake has become an exciting recreation hub. A hike through the Grainberg-Kalbenstein-Saupurzel nature reserve on the banks of the Main. Enjoy... What you always wanted to know about liquorice: Take a walk to explore Bamberg's historical life... Discover unique highlights along the Danube by bike from Regensburg. Ludwig I's national monument... On an expedition to explore the storks. This cycle tour takes you along the Altmühl past many... It's a rare occasion when you won't see queues outside of Stenz ice cream parlour in Regensburg old... Mountain views and (beer) culture: You don't need to bring your own tent when staying at this camp...
Share article

Email Copy link
Your bookmarks