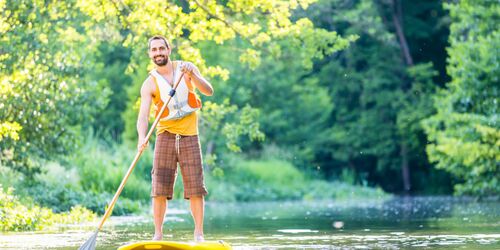 Many celebrities have taken up stand-up paddling (or SUP) as a hobby, and for a very good reason. Not only is it fun, it also tones your whole body. You can hire or buy a board from Boardnerds – located in the Mühlhof area of Nuremberg – as well as book a class or go on a stand-up paddling trip. How about a night trip on the Regnitz, or a river trip through Hersbruck Switzerland? If you sign up for the Monster SUP tour you can take up to ten friends with you on the board! Or maybe you're more in the mood for yoga on a wobbly surf board? Not a problem either. And every Monday, there is a "paddle meeting", which is followed by a BBQ or a gathering around a warming and comforting camp fire.
News, prices and opening hours are available here.
Arrival
Boardnerds
Mühlhofer Hauptstraße 7
90453 Nuremberg
Next station
Nürnberg Hbf (Nuremberg main station)
Our tip: Please make sure to check your train connection and the expected capacity before you start your journey.
More destinations
Paddle down the Pegnitz in a canoe or kayak. On the Pegnitz you can paddle for miles and miles... Sit back and relax: If you prefer something a little calmer, you can book a raft trip with Heiner... If at heart you've always been a cool surfer girl or brawny beach boy, you can let it shine in... Whether you're windsurfing or kiting, the force of the wind will see you tear across the largest... This riverside lido has something for everyone. A visit to the Hainbadestelle Lido in the Luisenhain Park in Bamberg has become a tradition. On hot... Would you rather bask in the hot sun or cool off with a chilled beer? In Seeshaupt, you can have... Possibly the most picturesque lido in Bavaria. After a delightful stroll through Kochel, you'll arrive at the lake. But what to do next? Do you go... The historic lido in Feldafing on Lake Starnberg has been around since 1927. Whereas the changing...
Share article

Email Copy link
Your bookmarks