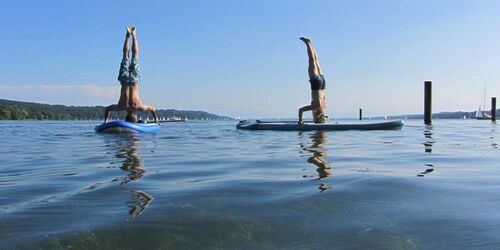 On a sunny day, why not have a go at a more wobbly style of yoga and swap your yoga mat for a stand-up paddle board. Paddle board clubs at both Lake Starnberg (pictured) and on the river Pegnitz offer this activity. Paddle-board yoga strengthens your core. And despite the aching muscles, you'll be sure to think back fondly to your exciting escapade for several days. What's more, if your sense of balance happens to be a bit off that day, at least you'll have a soft landing.
Arrival
SUP Lake Starnberg
Strandbadstraße 5
82319 Starnberg
Our tip: Please make sure to check your train connection and the expected capacity before you start your journey.
More destinations
If you like it romantic, this is the place for you. On this walk in the city of towers, you can... Experience the idyll of the Quellenreich Regional Park. Here, where numerous streams have their... A hiking trip through Franconia: From the pretty town centre in Emskirchen with its market and town... What you always wanted to know about liquorice: Take a walk to explore Bamberg's historical life... Next stop: speechless! The tour to the beautiful Guggersee lake in Bavaria, which is classified as... How about a charming cycle tour along small watercourses? Trace the work of Balthasar Neumann in... This tour at the southernmost point of the Main triangle is a fantastic interplay of art, culture,... No traffic noise, no caravans. Just water, trees and grass. The island of Buchau on Lake Staffelsee... A hike through the Grainberg-Kalbenstein-Saupurzel nature reserve on the banks of the Main. Enjoy... Soft forest and field paths lead you from Neustadt along the course of the stream, up the slopes of...
Share article

Email Copy link
Your bookmarks