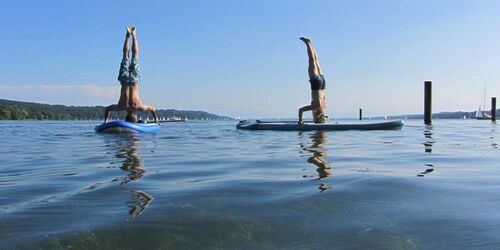 On a sunny day, why not have a go at a more wobbly style of yoga and swap your yoga mat for a stand-up paddle board. Paddle board clubs at both Lake Starnberg (pictured) and on the river Pegnitz offer this activity. Paddle-board yoga strengthens your core. And despite the aching muscles, you'll be sure to think back fondly to your exciting escapade for several days. What's more, if your sense of balance happens to be a bit off that day, at least you'll have a soft landing.
Arrival
SUP Lake Starnberg
Strandbadstraße 5
82319 Starnberg
Our tip: Please make sure to check your train connection and the expected capacity before you start your journey.
More destinations
Beer garden tables in the shade of old chestnut trees, beer and hearty dishes all add up to a... This extensive e-bike tour through nature, starting at the Altmühlsee, offers you many a cultural... Wonderfully refreshing: the beer garden at the Seehof hotel is only three minutes from Herrsching... From Burghausen, head south along the Salzach valley to Tittmoning. Here, not only a picturesque... The perfect combination: Find just the right spot at this camp site and you'll be able to see the... Where tradition meets modernity: Ice cream café "Benito" in Würzburg has been around for 84... Hills, lakes, barbecue areas, benches hidden in the greenery and play areas: the Westpark in Munich... Adventures galore! Be it mountaineering, kite flying, paragliding or skiing. It's all possible in... Seven breweries, traditional inns and beer cellars, pretty half-timbered villages, art trails and... This artificial lake has become an exciting recreation hub.
Share article

Email Copy link