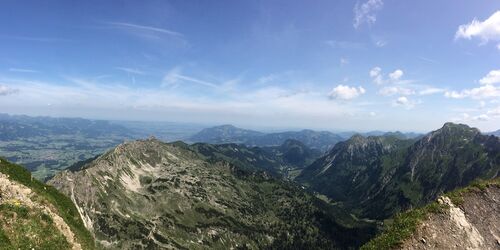 Tegelberg mountain has breathtaking views, a route suitable for walking with a baby carrier on your back, and enough action for older children. First, ride to the top of the mountain with the Tegelbergbahn cable car, which offers different family tickets, depending on how many adults and children are travelling. Then set off along the panoramic round-walk, the "Königsrunde", which takes about an hour. While the little ones sit in their baby carriers and enjoy the scenery, parents can create memories with photos of Neuschwanstein Castle in the background. The whole family is bound to enjoy a break in cabin Tegelberghaus, which was built in 1835 by Maximilian II (father of Ludwig II) and used as a royal hunting lodge. They serve hearty snacks, such as "Reiberdatschi" (potato pancakes) with apple sauce, and traditional Allgäu "Kässpatzn" (soft egg noodles baked with layers of cheese). At the end of the day, ride the Tegelbergbahn back down to the valley. And for anyone that still has enough energy: The valley station has an adventure playground and a summer toboggan run for children over the age of eight.
For further information please click here.
Directions: Catch bus 78, which goes from Füssen station to the Tegelbergbahn valley station (takes approx. 15 minutes).
Arrival
Mountain restaurant Tegelberghaus
Tegelberg 1
87645 Schwangau
Our tip: Please make sure to check your train connection and the expected capacity before you start your journey.
More destinations
Cabin "Brunnenkopf" has everything you need to relax and unwind: a picturesque backdrop and... Weihenstephan is the oldest brewery in the world still running. On a tour you can dive into the... Examples of nice and traditional beer gardens include the one from the Paulaner brewery on... Here is the heart of Munich. Hearty Bavarian cuisine, cosy surroundings and generously filled beer... It doesn't get fresher than this. At the Holzen Abbey in Allmannshofen, breakfast is turned into... At the breakfast cinema in Ansbach you have the chance to enjoy a delicious breakfast every Sunday,... Tall chestnut trees, drinkable beer and fine delicacies: the Hofbräukeller on Wiener Platz has... The "Barfüßer Hausbrauerei" brewery and beer garden are situated right in the heart of Memmingen.... Although the Augustiner Schützengarten beer garden in Munich, which has seating for 3,000 people,... Those who come to Bamberg get to choose: Is the visit for the physical pleasures - first and...
Share article

Email Copy link
Your bookmarks