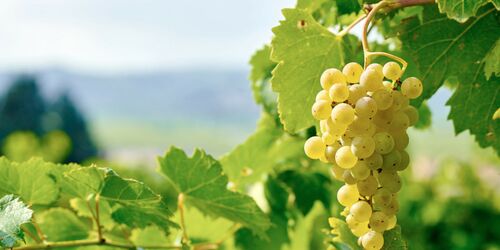 A view far and wide over the Franconian wine country, as well as a perspective on Argentinian wine-making – enjoy it all at the "terroir f" lookout point in Iphofen. From the lookout tower you have a breathtaking view over the adjacent vineyards, and you can learn interesting facts about wine-making around the world at the educational garden next door. You can reach the lookout point from Iphofen after a hike through the vineyards that takes about half an hour.
Arrival
terroir f
Schwanbergweg 1
97346 Iphofen
Our tip: Please make sure to check your train connection and the expected capacity before you start your journey.
More destinations
Important fact: When you go for a drink in one of the many beer cellars in Franconia, you don't go... After a two-and-a-half-hour walk from Pegnitz, you'll come to another stronghold of Franconian... After a around two-and-a-half hours of hiking from the station you will reach the rustic Tutzinger... Forests and fields, great beer and irresistible food: Franconian Switzerland is home to the... A wonderful group excursion to Vorra. Perfect for a little break in a large group: the... A "four beers" tour in Bamberg: If beer is more your thing than walking, you should take a trip to... The August-Schuster-Haus, which is also called Pürschlinghaus, is a cabin situated above Schloss... The sweeping view across the Altmühl valley from the castle is certain to have saved the lives of... An exciting place for all ages: The Bavaria Filmstadt film studios in Grünwald, right next to... Traces from the ice age: To the south-west of Starnberg lies the Maisinger Canyon, eroded by the...
Share article

Email Copy link
Your bookmarks