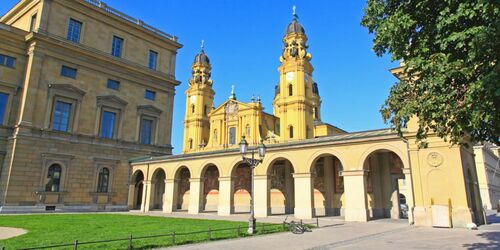 Two thirds of the 2011 film "The Three Musketeers" was filmed in Bavaria. One of the biggest and most expensive productions that Europe has ever seen. Together, D'Artagnan and the musketeers Athos, Porthos and Aramis brought disorder to the region. How about a musketeer-themed weekend? Film locations included Bamberg (Old Town, Cathedral Square, Old Town Hall, Old Court), Würzburg (Würzburg Residence, Old Main Bridge, Marienberg Fort), Schleißheim Palace and the Munich Residence.
Arrival
Cathedral Square Bamberg
Domplatz 1
96049 Bamberg
Our tip: Please make sure to check your train connection and the expected capacity before you start your journey.
More destinations
Are jeans American? No, sirree, this popular garment has its roots in Upper Franconia. The Turmtheater theatre in Regensburg doesn't just raise you to lofty cultural heights. The sixth... At the Opern- und Konzertakademie (opera and concert academy) at Schloss Henfenfeld castle near... Bavarian beer culture and traditional values are nurtured at the Ayinger Brewery. Go on a yoga retreat with "bayurvedic" cuisine at Hotel Staudacherhof in Garmisch-Partenkirchen. At "indoor Sport Fürth" leisure centre, visitors can either try out new sports or play the more... Ever wished that you could beam yourself into a video game? Well then, get yourself down to the... This is where all the threads come together: at the Bamberg Marionette Theatre. Although there is... Bamberg is famous for its horticulture. Dive into the life and work of gardeners and wine makers... The thermal baths in Treuchtlingen have a special treat in store. The "Altmühltherme" baths are...
Share article

Email Copy link