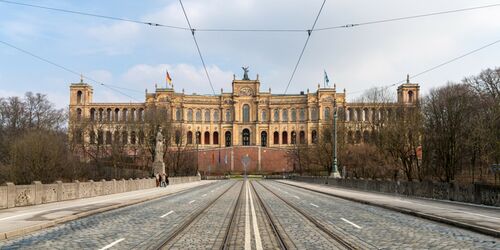 If you would like to have a look round the city away from the usual sights, we recommend you leave the tourist bus behind and take the tram or the bus instead. Buy a day ticket, sit back, and enjoy the ride: get on, enjoy the sights and get off if you want to take a closer look at something. The number 19 tram line is particularly suited for this (it runs past the Justizpalast law courts, Stachus square, Lenbachplatz square, the national theatre and the Maximilianeum palatial building), as is tram line number 27 (i.e.Hohenzollernplatz square, Elisabethplatz square, Schellingstraße, Pinakotheken art gallery, Sendlinger Tor gate) and the number 100 bus, which is actually called "Museumslinie" (museum line) and goes directly past the main station.
Arrival
Munich main station
Bayerstraße 10a
80335 Munich
Next station
München Hbf (Munich main station)
Our tip: Please make sure to check your train connection and the expected capacity before you start your journey.
More destinations
Do you like the mystery of the forest and the diversity of nature? Then this railway traveller's... Our insider's tip for picturesque railway journeys will lead you to three incredible destinations... Bertolt Brecht allegedly said that "the nicest thing about Augsburg is the train to Munich." Of... A royal lifestyle in the heart of northern Bavaria: Coburg in Upper Franconia is the right place... This railway track winds its way through the foothills of the Alps, past a glorious panoramic... Go on a voyage of discovery through the historic town of Amberg - the former capital of the Upper... The Karwendelbahn cablecar at Mittenwald only needs a few minutes to whisk visitors from an... Our insider's tip for railway travellers will lead you through a picturesque landscape. Find out... On a walk through the Kunstareal Munich, we follow in the footsteps of King Ludwig I and explore... Neu-Ulm's Edwin Scharff Museum is a unique institution that contains an interactive children's...
Share article

Email Copy link
Your bookmarks