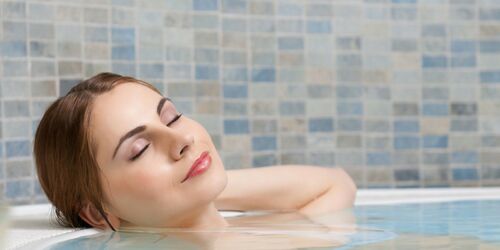 The "Altmühltherme" baths are just a seven-minute walk from Treuchtlingen station. As well as massages, there are plenty of interesting relaxation baths in the wellness area. How about taking a beer bath with hops and yeast, or a latte macchiato bath with caffeine and whey?
News, prices and opening hours are available here.
Arrival
Altmühltherme Treuchtlingen
Bürgermeister-Döbler-Allee 12
91757 Treuchtlingen
Next station
Treuchtlingen
Our tip: Please make sure to check your train connection and the expected capacity before you start your journey.
More destinations
Lift some weight off your shoulders: Relax in an open-air, salt-water floating pool, right in the... Why not try out something new, like football billiards and be a human cue, or play crazy golf in... Bamberg is famous for its horticulture. Dive into the life and work of gardeners and wine makers... Visit the Costume Museum in Holzhausen and find out what a real Bavarian costume ("Tracht") looks... At the "Gruseldinner" (spooky dinner) at Haus Heuport in Regensburg, you may struggle to... For thirsty folk: would you like to know the exact reason why your favourite beer is so tasty? If... Bavarian beer culture and traditional values are nurtured at the Ayinger Brewery. Find out about long-lost crafts and technology: it's like taking a trip with Jules Verne. A medieval fort in an idyllic setting, a late Gothic chapel with a love of detail, and the world's... Old vehicles, modern technology and exciting facts – the Deutsche Bahn Museum in Nuremberg is...
Share article

Email Copy link
Your bookmarks