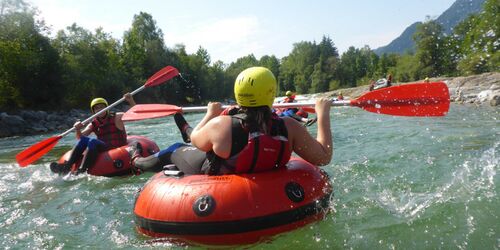 If you want a team-building exercise for you and your colleagues or to meet people in a new and unique way, the tubing tour with the Münchner Sportpiraten is just the thing for you. The tour lasts two and a half hours and you will be provided with an experienced guide, double paddle, helmet, swimming vest, and wetsuit for the seven-kilometre journey down the Isar river. If along the way you feel like some good-natured, sporty swashbuckling, you and your friends can try and capsize and climb on each other's tubes. You can get to the starting point of the trip by taking the U3 U-Bahn from Munich central station towards "Fürstenried-West" and getting off at the stop "Thalkirchen-Tierpark". Afterwards it's a fifteen-minute walk to the meeting point at the Thalkirchen camping site. You can also take the number 135 bus for three stops to "Floßlende".
Arrival
Sport-Piraten event agency
Zentralländstraße 39
81379 Munich
Next station
München Hbf (Munich main station)
Our tip: Please make sure to check your train connection and the expected capacity before you start your journey.
More destinations
If at heart you've always been a cool surfer girl or brawny beach boy, you can let it shine in... Sit back and relax: If you prefer something a little calmer, you can book a raft trip with Heiner... Stand-up paddling (or SUP) is fun and incidentally tones your whole body. In the Nuremberg district... Paddle down the Pegnitz in a canoe or kayak. On the Pegnitz you can paddle for miles and miles... Whether you're windsurfing or kiting, the force of the wind will see you tear across the largest... Would you rather bask in the hot sun or cool off with a chilled beer? In Seeshaupt, you can have... No chlorine, no red eyes, just lots of fun! This riverside lido has something for everyone. Pack your swimwear and let's head for the local recreation area! This bike tour for the whole... A spectacular place in this Franconian metropolis.
Share article

Email Copy link