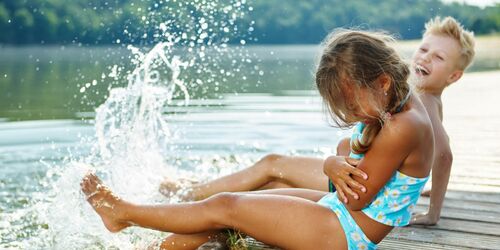 The Regen is a tributary of the Danube, and at 190.93 kilometres, it is the second-longest river in the Upper Palatinate, after the river Naab. It flows along the edge of Regenstauf, a small town in the Regensburg district. The Valentinsbad Lido is situated in the middle of this attractive river landscape in the northern part of the Regen valley. From May through to September, its spacious lawns beckon guests to recline on the manicured grass after a splash around in the river. Changing rooms, showers and bathroom facilities are all available on site. There are also football pitches and volleyball courts for those who enjoy a lot of physical activity. All that moving around is bound to whet up an appetite! Although BBQs are sadly prohibited, swimmers and other sporting types can recharge their batteries in the adjoining "Valentinsbad" restaurant, which also has a beer garden. The menu includes "Wiener Schnitzel" with fries and a side salad and Hawaii Toast. And one more tip for those travelling from further away: the Valentinsbad Lido offers accommodation with views over the river. However, there are only one single room and three double rooms, so best to book early!
For further information please click here.
Directions: From Regenstauf station, walk 190 metres down Hindenburg Straße until it crosses with Regensburger Straße. At this point, keep right, and after one minute you'll arrive at the "Regenstauf Post" bus stop. Catch bus no. 43 all the way to the "Regenstauf Valentinsbad" bus stop. As you get off the bus, you'll find yourself already at the entrance of the lido.
Arrival
Valentinsbad
Regentalstrasse 13
93128 Regenstauf
Our tip: Please make sure to check your train connection and the expected capacity before you start your journey.
More destinations
A visit to the Hainbadestelle Lido in the Luisenhain Park in Bamberg has become a tradition. On hot... For decades, the small Alpenblick Lido, with its café, pier and boat hire, has been a key... There's plenty of space for everyone, even in the high season. An idyllic location on Lake Constance in all weathers. You'll be spoiled for choice when you arrive... Sit back and relax: If you prefer something a little calmer, you can book a raft trip with Heiner... The historic lido in Feldafing on Lake Starnberg has been around since 1927. Whereas the changing... In Munich, you can order your luxury breakfast complete with picnic equipment. After a delightful stroll through Kochel, you'll arrive at the lake. But what to do next? Do you go... Stand-up paddling (or SUP) is fun and incidentally tones your whole body. In the Nuremberg district... Would you rather bask in the hot sun or cool off with a chilled beer? In Seeshaupt, you can have...
Share article

Email Copy link
Your bookmarks