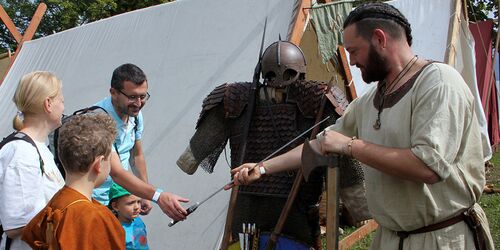 In the summer of 2008, German director Michael Herbig filmed the motion picture "Wickie und die starken Männer" (Wicki and the strong men) on the banks of Lake Walchen. One section of the film set village "Flake" was retained intact. The site includes some Viking houses as well as eleven information boards about the Viking era. Finding your way to the village can sometimes be a bit tricky: it is situated right on the lake between the sunbathing meadow of Café Bucherer (Seestraße 1) and the water rescue service building.
For further information please click here.
Arrival
Viking village "Flake"
Seestraße 1
82432 Kochel am See
Our tip: Please make sure to check your train connection and the expected capacity before you start your journey.
More destinations
A leaning tower, the supposed tomb of Dracula and a bulging picnic basket await you on this magical... Let yourself be enchanted by the historic flair of the old town on a walk through Rothenburg: the... If you're looking for a guided tour that is in no way boring, you should book a night-time tour... How about a tour along the old railway line through the idyllic Schambach Valley? This bike tour... Plassenburg castle is nearly 900 years old and was once the centre of power of the House of... A hike with cultural enjoyment - a sculpture park and colourful half-timbered houses await you on... Due to its location right by the limes, the little Middle Franconian town of Weißenburg became a... This is a place where everything unites: the traditional and the modern, East and West, and the... Memmingen's medieval townscape on the edge of the Allgäu is fascinating with its well-preserved... Sumptuous flowers: tiny Bernried was chosen as one of Germany's most beautiful villages in 2009.
Share article

Email Copy link