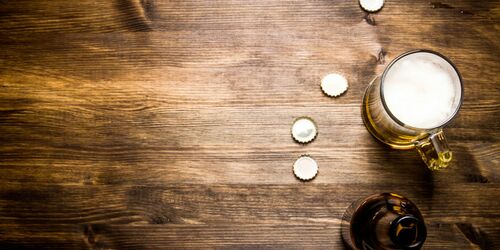 Of course, the world beer capital can't be missed. The beer garden of the Paulaner Brewery on Nockherberg hill is nice and traditional: it makes for a nice place to mingle with other people under the shade of an old chestnut tree with a wheat beer – both with Munich natives and "Zugroasten" (incomers) from all over the world. The tram will take you to the picture-perfect beer garden in just 20 minutes from the main station.
You can also indulge in beer from the current craft beer trend in Munich: the "Tap-House" at Ostbahnhof station offers the opportunity to sample 200 extraordinary beers from all over the world. From fruity to bitter, you're guaranteed to find something to suit every taste – you can create such diverse flavours with the traditional brewing ingredients of water, wheat, hops and yeast.
Arrival
Paulaner brewery
Hochstraße 77
81541 Munich
Next station
München Hbf (Munich main station)
Our tip: Please make sure to check your train connection and the expected capacity before you start your journey.
More destinations
Weihenstephan is the oldest brewery in the world still running. On a tour you can dive into the... A trip to the Franconian Open Air Museum is like a journey back in time. 700 years of Franconian... The Himalayas are in Bavaria: that's the name of the 15-metre-high course for experienced climbers... Cabin "Brunnenkopf" has everything you need to relax and unwind: a picturesque backdrop and... During the Würzburg Residence Race in 2015, a record was set before the race had even begun. For... A visit to Bavaria's third-largest city is like travelling back in time to the Renaissance, largely... Experience the history of the mills along the Rodach, the Ködeltalsperre and a unique natural... On the northern edge of the Augsburg - Western Woods Nature Park, this varied loop offers you... The life of knights in their sights: on an excursion to the Allgäu Königswinkel, children can... What did panniers, beehives, fish traps and prams once have in common? That's right - they were all...
Share article

Email Copy link