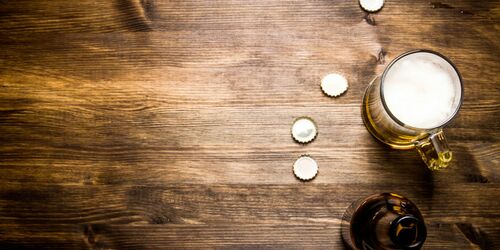 Of course, the world beer capital can't be missed. The beer garden of the Paulaner Brewery on Nockherberg hill is nice and traditional: it makes for a nice place to mingle with other people under the shade of an old chestnut tree with a wheat beer – both with Munich natives and "Zugroasten" (incomers) from all over the world. The tram will take you to the picture-perfect beer garden in just 20 minutes from the main station.
You can also indulge in beer from the current craft beer trend in Munich: the "Tap-House" at Ostbahnhof station offers the opportunity to sample 200 extraordinary beers from all over the world. From fruity to bitter, you're guaranteed to find something to suit every taste – you can create such diverse flavours with the traditional brewing ingredients of water, wheat, hops and yeast.
Arrival
Paulaner brewery
Hochstraße 77
81541 Munich
Next station
München Hbf (Munich main station)
Our tip: Please make sure to check your train connection and the expected capacity before you start your journey.
More destinations
Weihenstephan is the oldest brewery in the world still running. On a tour you can dive into the... The Gulf of Naples is at home on the banks of the river Main: Aschaffenburg's Pompeiianum is a... The various stages of the Altmühltal Panorama Trail are among the most versatile routes for hiking... The island town of Lindau owes its reputation as Bavaria's riviera to its blend of Art Nouveau... The "Haus am Strom" (house on the current) is dedicated to the flora and fauna that you find around... Just a few minutes from Reutte train station, off you go on a wet adventure you won't soon forget. Versatile theatre arts, the home of renowned poets and thinkers - and all that with tradition,... Drink a glass of wine on the Old Main Bridge, admire your reflection in the palace's imperial hall... Go on a voyage of discovery through the historic town of Amberg - the former capital of the Upper... Upper Franconia has introduced an experience that unites beer and education in perfect harmony. At...
Share article

Email Copy link
Your bookmarks