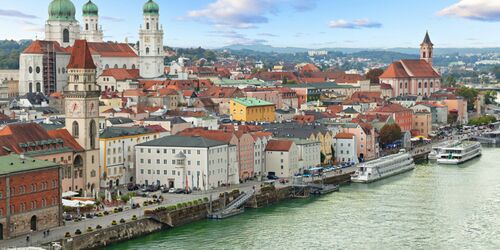 Triple the relaxation awaits you here: the Inn, the Donaulände area and the monastery gardens can all be reached from the station in five to ten minutes.
Arrival
Passau
Bahnhofstraße 29
94032 Passau
Next station
Passau Hbf (main station)
Our tip: Please make sure to check your train connection and the expected capacity before you start your journey.
More destinations
Snakes, lizards, tortoises and poison dart frogs – over 135 animals live at the Reptilienhaus... Be warned: these excursion tips may not be to vegetarians' tastes. Because it's all about sausages... The station in this market town links the past with the present The Alter Simpl restaurant in Erlangen is right near the station and has a menu that boasts... The Bratwurstglöcklein restaurant is located a few steps from Nuremberg's main station. Are all farmers in the east of Bavaria gloomy? The name of this sausage speciality sounds... "Drei im Weggla" – Nuremberg residents know immediately what this means: three small, crispy... You won't have to search for long if you arrive in Bayreuth hungry – sushi restaurant Lamondi... Since 2012, Aschaffenburg main station has been graced with the title of "Station of the Year". Andechs Monastery with its bell tower is situated on the east bank of the Ammersee lake. Beer has...
Share article

Email Copy link
Your bookmarks