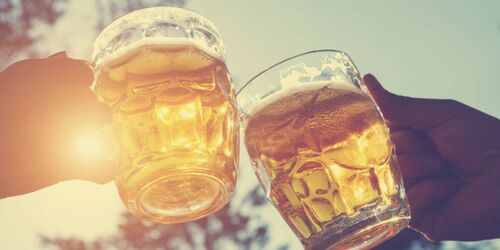 Weihenstephan is the oldest brewery in the world still running. On a tour you can dive into the history of the brewery, which spans nearly 1000 years. Afterwards, why not sample the beers and see if you can taste the history.
News, prices and times of guided tours are available here.
Arrival
Weihenstephan brewery
Alte Akademie 2
85354 Freising
Our tip: Please make sure to check your train connection and the expected capacity before you start your journey.
More destinations
Examples of nice and traditional beer gardens include the one from the Paulaner brewery on... If you would like to have a look round the city away from the usual sights, we recommend taking the... Take a trip to the "Sennerei Lehern" showroom and watch cheese-making experts at work as they... Want a different kind of hiking experience? In Bavaria, you can take an alpaca or donkey along for... Attention culture lovers and connoisseurs! This city walk takes you past the architectural and... The hour-long hike takes you along the Schutzengelweg culture trail all the way up to... A wonderful trip: Kösseinehaus cabin has been enticing hikers to the Fichtel mountains since 1903. Comfortably upwards, with caracho downwards: The summer toboggan run of the Fröschbrunna Coaster... Franconian Switzerland is a paradise for climbing enthusiasts and adventure seekers. The countless... If you want your city break to combine style and flavour, the barrel-filled cellar of Würzburg's...
Share article

Email Copy link
Your bookmarks