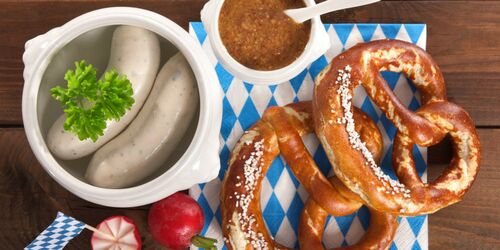 "I know everything about the Weißwurst," says master butcher and chef Norbert Wittmann with confidence. This is why he founded the Weißwurst-Akademie Neumarkt (Neumarkt Weißwurst academy in the Upper Palatinate) in 2006. Take a seminar here and benefit from Wittmann's expertise: participants will learn everything about the Weißwurst, the right mustard to pair with it and the right beer. This much theory will make you crave some practice: after the chef, visitors put what they learned to the test, and have a chance to make their own Weißwurst. If you want to receive the final Weißwurst diploma, there is just one more test you have to pass. You then have the opportunity to tuck in to the Weißwurst. Whether you abide by Weißwurst-eating etiquette and eat the sausage as is traditional, is of course carefully observed by Wittmann.
For further information please click here.
Arrival
Weißwurst seminar
Bahnhofstraße 21
92318 Neumarkt in der Oberpfalz
Next station
Neumarkt (Oberpfalz)
Our tip: Please make sure to check your train connection and the expected capacity before you start your journey.
More destinations
Garmisch-Partenkirchen is the perfect place for anyone who wants to rise above it all, but in a... Learn from the best! At Confiserie Lauenstein you can look over chocolatiers' shoulders, as they... It doesn't get fresher than this. At the Holzen Abbey in Allmannshofen, breakfast is turned into... Beer tour from Coburg to Rödental: Quench your thirst in the myriad of beer gardens and beer... Go on a voyage of discovery through the historic town of Amberg - the former capital of the Upper... A hint of Alsace is just a short train trip away: simply visit Bamberg. The town in northern... Attention culture lovers and connoisseurs! This city walk takes you past the architectural and... Adrenaline for the brave: At Tannheim airport you can have a go at being a helicopter pilot... If you want to experience a pilgrimage route while only taking a short hike, you should set out... An exciting place for all ages: The Bavaria Filmstadt film studios in Grünwald, right next to...
Share article

Email Copy link
Your bookmarks