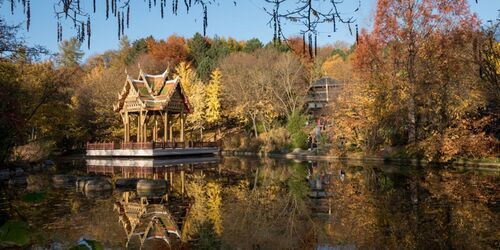 Hills, lakes, barbecue areas, benches hidden in the greenery and play areas: The Westpark has everything that a city park needs, and more! A rose garden, Chinese garden and Japanese garden, a Nepalese pagoda and a Thai sala with a statue of Buddha. In the summer time, the "Kino, Mond und Sterne" open air cinema with its stage facing the lake shows films ranging from thrillers to romances. Tip: enjoy a beer at the "Hopfengarten" beer garden, which has a view over the park.
Arrival
Westpark
Preßburger Straße
81377 Munich
Next station
München Hackerbrücke
Our tip: Please make sure to check your train connection and the expected capacity before you start your journey.
More destinations
This place never wants for comfort, no matter the season. Campingplatz Hasenmühle is situated in... Culture meets nature, history walk and wanderlust all in one - that's what this tour through the... Mountain views and (beer) culture: You don't need to bring your own tent when staying at this camp... You have never experienced Würzburg like this before! This city tour combines important sacred and... A hiking trip through Franconia: From the pretty town centre in Emskirchen with its market and town... Summer in the city: "Knaus Campingpark" is incredibly peaceful, despite being right in the middle... On an expedition to explore the storks. This cycle tour takes you along the Altmühl past many... The majestic round trip takes you past the chic properties by the bank, Possenhofen Castle (also... Seven breweries, traditional inns and beer cellars, pretty half-timbered villages, art trails and... What you always wanted to know about liquorice: Take a walk to explore Bamberg's historical life...
Share article

Email Copy link
Your bookmarks