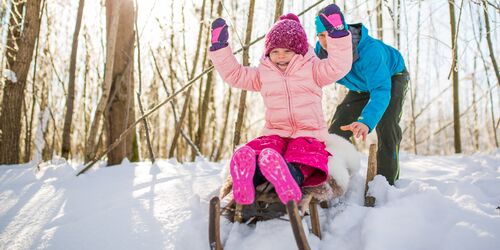 Winter sports activities in Oberau at a glance:
Skiing and snowboarding, especially for novices

Sledding

Hiking

Cross-country skiing

Hiking in snowshoes

Ice skating
You don't need much to enjoy a perfect day of winter sports, just a small slope, a lift, snow and a snowboard or pair of skis strapped to your feet. This is exactly what's on offer at the Rabenkopf in the small town of Oberau, not far from Garmisch – a rope lift for young (or older) winter sports fans heading out on skis or snowboard for the first time. By contrast, the additional T-bar lift covers a run of around 500 meters and allows for a bit more momentum. With sufficient snow, it also has plenty to offer fans of cross-country skiing too, with a circuit trail set up close to the valley station.
The Rabenkopf is a nice place to be. A small kiosk provides visitors with snacks, there is a sled run and a large natural ice rink that can be used free of charge during regular opening times. Visitors can even use the rink at night during the weekly disco event.
The low price for using the ski lift makes it perfect for families, with day, half-day, season and points tickets available for both children and adults. Children under the age of six can ride for free. There is also a snow machine to ensure a sufficient coverage of snow on the piste. You can find out whether the ski lift is operating here.
Away from the piste and ice rink, Oberau offers some wonderful winter hiking. The route along the Loisach between Oberau and Farchant is perfect for a gentle snowshoe hike.
If, by the end of the day, you are getting hungry, visit the Gasthof Untermberg. Here, diners can enjoy traditional cuisine in a relaxed atmosphere, while reflecting on everything they have done throughout the day. A special menu is available for younger winter sports fans.
Although the ski lift is usually closed by mid-March, Oberau and the Loisach valley are still worth a visit in the warmer months. You can find some great tips for mountain biking, hiking and climbing around the Zugspitze here.
Getting there: Take the train to Oberau. After leaving the station via Bahnhofsplatz, head onto Schmiedeweg before turning left onto Hauptstrasse. Keep going and turn right onto Ettaler Strasse. Walk until you reach Alte Ettaler Strasse, then turn left. Continue until you see the ice rink and ski lift on the left-hand side. The journey is about 20 minutes by foot. From the ski lift, it's just a five-minute walk to Gasthof Untermberg. To get there, take the same route as you would to get to the ski lift and follow Alte Ettaler Strasse for about 400 metres.
Arrival
Rabenkopflift
Alte Ettaler Str. 31
82496 Oberau
Our tip: Please make sure to check your train connection and the expected capacity before you start your journey.
More destinations
Fun on the slope descents in the Alps: this is possible at the ski resort on the Ochsenkopf in the... Lovers of cross-country skiing can enjoy themselves in the shadow of Germany's highest mountain:... 7,000 m2 of relaxation: the KissSalis spa was designed to make you feel better than you every... Art history, stained glass and a gorgeous garden: there's so much to see in Augsburg's cathedral... One of the possible starting points along this 18.7-kilometre route is the spa park in Bad Steben... The loipe from Unterammergau to Oberammergau is ideal for the whole family. It has a distance of... If you're looking for a sporty activity for the winter, speeding down over five kilometres of... Attention fans of winter sports! Whether you love snowboarding, sledding, skiing or cross-country... The small Bavarian town on the Red Main has made a name for itself not only as a film set for... If a day of tobogganing without the tedious uphill climb sounds appealing, then you should catch...
Share article

Email Copy link
Your bookmarks