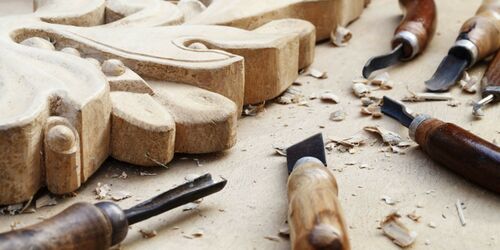 The work of Oberammergau wood carvers was admired as far back as the 16th century. The Upper Bavarian municipality is famous for its wooden religious figurines and nativity scenes. That being said, the local artists also have lovely items that are more modern. If you would like to try for yourself, you can book a wood carving course with experienced masters of the trade.
If you'd rather purchase a finished piece, you can find a selection at places, such as the Holzschnitzerei Albl.
For further information please click here.
Arrival
Wood carving course
Othmar-Weis-Straße 5
82487 Oberammergau
Next station
Oberammergau
Our tip: Please make sure to check your train connection and the expected capacity before you start your journey.
More destinations
The little town situated on the Upper Main river is the wicker capital of Germany. If you would... The little Upper Bavarian community of Eichenau was famous in Europe for its excellent mint for a... Below the town hall, 15 gaol cells show what a 14th-century prison was like. In the Middle Ages,... Are jeans American? No, sirree, this popular garment has its roots in Upper Franconia. Find out about long-lost crafts and technology: it's like taking a trip with Jules Verne. For those with a sweet tooth: instead of hearty Bavarian fare, this macaron course is all about... The Air Museum in Engelsburg castle in Amberg features air that you can hear, see and touch, spread... Two thirds of the 2011 film "The Three Musketeers" was filmed in Bavaria. One of the biggest and... The Turmtheater theatre in Regensburg doesn't just raise you to lofty cultural heights. The sixth... Faster, quieter and absolutely no exhaust fumes: Once you've had a taste of driving an electric...
Share article

Email Copy link
Your bookmarks