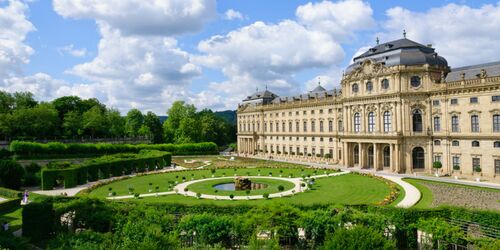 During the Würzburg Residence Race in 2015, a record was set before the race had even begun. For the first time ever, more than 8,000 runners took their marks at the starting line and even defied the unexpected snowstorm – another first in the history of the race. The Residence Race also holds two other records: not only is it the fastest 10-kilometre race in Germany but also the largest running event for school and Kindergarten children in the country. In the most recent event, 4,000 young people took part.
Arrival
Würzburg Residence Race
Rennweg 1
97070 Würzburg
Next station
Würzburg Hbf (main station)
Our tip: Please make sure to check your train connection and the expected capacity before you start your journey.
More destinations
In the Rottal valley you will not just find an exercise trail, but an entire fitness park. You can... The perfect pleasure tour in the land of wine! Roam the riverside landscapes along the Main between... The hour-long hike takes you along the Schutzengelweg culture trail all the way up to... A hike in Iffeldorf around the Caribbean-blue Easter Lakes with a dreamlike mountain panorama - for... For big kids: both little and big kids can have a go at operating monster excavators, wheel loaders... In the "Skatepark Holzkirchen" you can show off your new tricks under the open sky. There are more than 1,000 caves in Franconian Switzerland. The most well-known and most accessible... Petting zoo for the kids, wellness for the parents, and the motto: "Happy children – rested... Just like James Bond: Many will recognise the plane from "007 – You Only Live Twice". The... This is a place where everything unites: the traditional and the modern, East and West, and the...
Share article

Email Copy link