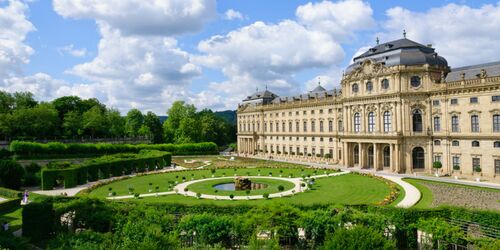 During the Würzburg Residence Race in 2015, a record was set before the race had even begun. For the first time ever, more than 8,000 runners took their marks at the starting line and even defied the unexpected snowstorm – another first in the history of the race. The Residence Race also holds two other records: not only is it the fastest 10-kilometre race in Germany but also the largest running event for school and Kindergarten children in the country. In the most recent event, 4,000 young people took part.
Arrival
Würzburg Residence Race
Rennweg 1
97070 Würzburg
Next station
Würzburg Hbf (main station)
Our tip: Please make sure to check your train connection and the expected capacity before you start your journey.
More destinations
Also for people with a fear of flying: A balloon flight above Bavaria is perfect for anyone who... There is a long tradition of mining in the Allgäu. And for this reason an entire museum village... In Fürstenfeldbruck the trees also provide cool shade during exercise: the forest exercise trail... Get on your bike and off you go to beer, baroque and Levi Strauss. On this e-bike tour, you can... Slow speed ahead! Take a ride in a Zeppelin balloon and you'll get more than just a sightseeing... The forest in the Bad Wörishofen wellness park is the perfect place for an athletic day trip. Training strength and dexterity for free in Munich? No problem on the fitness trails which are... Petting zoo for the kids, wellness for the parents, and the motto: "Happy children – rested... The perfect pleasure tour in the land of wine! Roam the riverside landscapes along the Main between... You may be awoken by the cockerel, but you won't find any cows or horses here.
Share article

Email Copy link
Your bookmarks