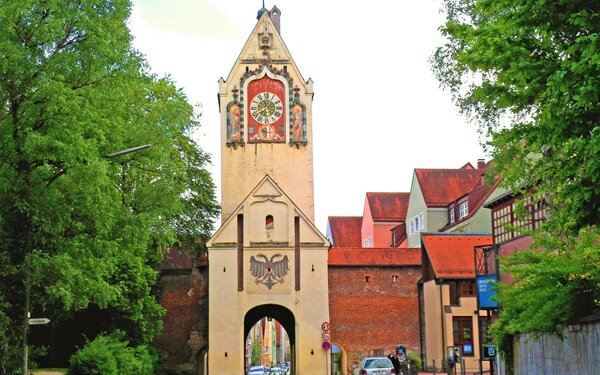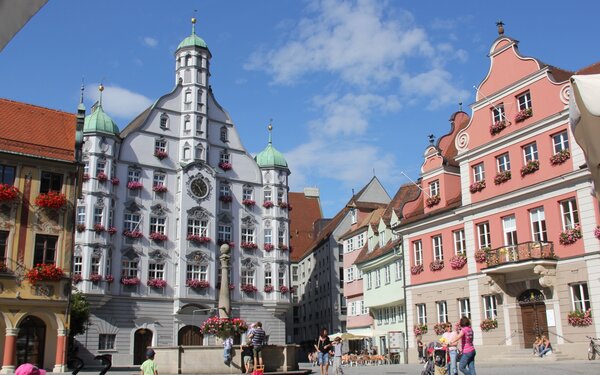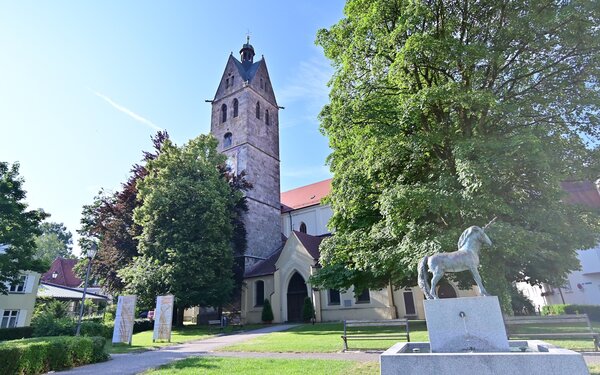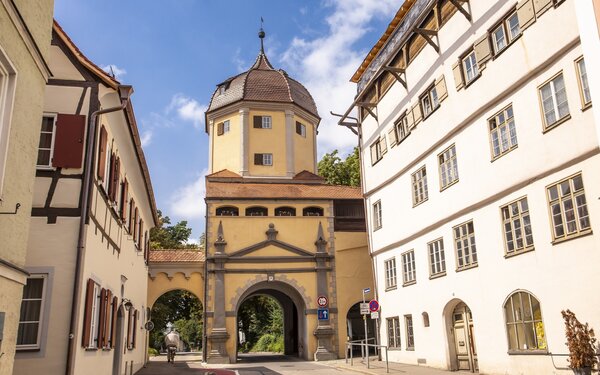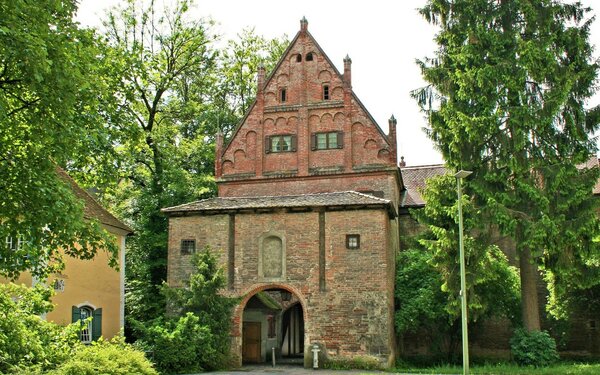 Key facts of the tour
At 60 kilometres, this circular tour in the Iller and Rottal valleys is particularly suitable for e-bike riders. There are some steep climbs with a maximum altitude difference of 500 metres, but you will be rewarded with beautiful views of the landscape. The lively Swabian Farm Museum is very popular, where you can experience how historical agriculture was lived with farm animals and plant cultivation. You can also take a refreshing dip in the Iller at the beach in Illerbeuren.
Otherwise, this cycle tour takes you through beautiful and unspoilt forests, past farmsteads, along streams and rivers. Historical walls and church art tell stories. And there is no shortage of culinary delights in this Upper Swabian region.
If you are more than four cyclists, you should also register at Josepp's Brauhaus restaurant shortly before the start of the ride, phone: 08331 9278103.
A cycling tour for nature lovers and culture enthusiasts.

Arrive relaxed and use rental bikes from the local rental companies. The capacity for taking bicycles on trains is limited and taking your own bike on the train cannot be guaranteed, depending on the capacity.
Start and end station
6 tour steps
62 km / 6 Stunden
Our tip: Please make sure to check your train connection and the expected capacity before you start your journey.
Schedule
DB Bicycle Service Memmingen Station
The starting point is Memmingen railway station. It has lifts on all platforms.
Bahnhofstr. 3
87700
Memmingen
To reach the iSi-Bike service shop, you need about 12 minutes on foot from the station. You will walk a short distance through Memmingen's old town, which is considered one of the best-preserved old towns in southern Germany. Shortly before you reach the bike rental shop, you will pass the church of St. Martin, whose history dates back to the 9th century and which is one of the oldest churches in Upper Swabia.
In the iSi Bike Service Shop, every cyclist is well looked after, whether it is a question of purchase or repair, whether the bike is powered by physical strength (bio-bike) or electro-assisted.

The shop also keeps a small stock of rental bikes. These are two e-bikes and one bio-bike, each in 28-inch format. Anyone interested in renting one should call iSi Bike about one to two weeks in advance to inquire about and secure the availability of the bikes for the time of the outing.
Martin-Luther-Platz 9
87700
Memmingen
Email Address:
info@isi-bike-serviceshop.de
You drive out of town through the Lindauer Tor. It came under heavy fire during the Thirty Years' War, as the cannonball on the west side of the gate reminds us.

Behind Hitzenhofen you reach a forest area with romantic sunken paths. You may notice that there is a special tree with a face at the junction with the five paths. Shortly afterwards, at Füllenbach, you can admire a beaver dam.

In Kardorf, you will come to the Kardorf reservoir and cycle along the Iller from here to Illerbeuren.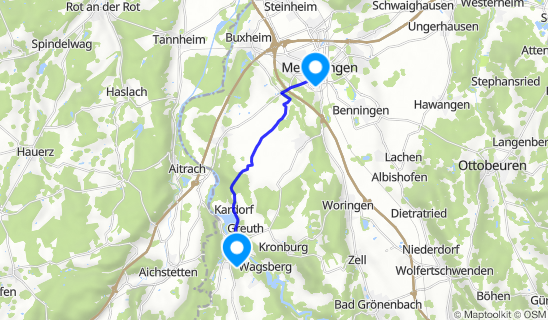 The Swabian Farm Museum was founded in 1955. 32 houses represent historically grown agricultural building ensembles that combined living and working. Entire farms in their functional units, including workshops, technical equipment and stables, are open to visitors.

Numerous animals and plants are at home on the extensive grounds. To the delight of all animal lovers, they vividly illustrate how animal husbandry worked in the past. Among the historical crop varieties cultivated here are old grain varieties in three-field farming. A separate area is dedicated to the care and cultivation of espalier fruit.

A chapel true to the original was erected, old burial crosses already existed on the site, so that religious customs and burial rites can also be thematised as an important cultural element of rural life.

A new addition is the history of shooting culture. The weapons collection ranges from historical crossbows and tournament bows to matchlock muskets from the Thirty Years' War and modern precision sporting weapons.

The Gromerhof museum inn not only functions as an exhibit of Bavarian innkeeping culture, but is also open outside museum hours: Tuesday to Thursday 11:30 am to 6 pm; Friday to Sunday 11:30 am to midnight. Tel. (0 83 94) 5 94.
Museumstraße 8
87758
Kronburg (Illerbeuren)
Email Address:
info@bauernhofmuseum.de
01.03. - 31.03.
Tuesday:
10:00am - 04:00pm
Wednesday:
10:00am - 04:00pm
Thursday:
10:00am - 04:00pm
Friday:
10:00am - 04:00pm
Saturday:
10:00am - 04:00pm
Sunday:
10:00am - 04:00pm
01.04. - 15.10.
Tuesday:
09:00am - 06:00pm
Wednesday:
09:00am - 06:00pm
Thursday:
09:00am - 06:00pm
Friday:
09:00am - 06:00pm
Saturday:
09:00am - 06:00pm
Sunday:
09:00am - 06:00pm
16.10. - 30.11.
Tuesday:
10:00am - 04:00pm
Wednesday:
10:00am - 04:00pm
Thursday:
10:00am - 04:00pm
Friday:
10:00am - 04:00pm
Saturday:
10:00am - 04:00pm
Sunday:
10:00am - 04:00pm
If you feel like cooling off after the sightseeing, there is a bathing beach on the left before the bridge in Illerbeuren.

Via Aichstetten you head westwards and later along the Rappenbach. Then the road meanders a bit until you reach Rot an der Rot. At Langensteig you pass the neo-Gothic Gelöbniskapelle, built in 1866 by the then owner of the land. Before setting off on his journey to America, where he wanted to make his fortune as a gold prospector, he had vowed to build a chapel here upon his healthy return.

The last stretch before the next stage destination you cycle idyllically along the cycle path along the Rot to Rot an der Rot.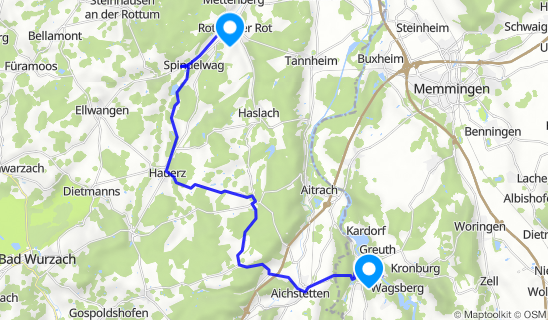 Upper gate in Rot an der Rot
The Upper Gate was built in 1716 and represented the western entrance to the then rebuilt Premonstratensian monastery complex. The complex had been destroyed by arson in 1681. The baroque monastery was then rebuilt. So was the Upper Gate with its neo-Baroque paintings. It served as a gate tower until secularisation, and the interior rooms were the living quarters of the guards at the time. Afterwards, it was used in various ways, at times as a storage room, as a school and as a clubhouse.

Since 2016, part of the estate of the painter Alois Springer has been exhibited in the north wing of the gate. However, the gallery is currently closed.
Klosterhof 14
88430
Rot an der Rot
Email Address:
rathaus@rot.de
To the left of the Upper Gate and not to be overlooked, you will find the monastery church of St. Verena.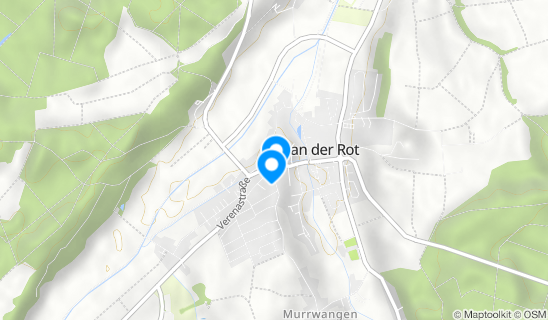 Monastery Church of St. Verena in Rot an der Rot
As early as 1126, a Premonstratensian abbey was founded in Rot by St. Norbert of Xanten. The present church had several predecessor buildings that were destroyed or damaged in fires or wars. After the great fire in 1681, the entire monastery complex was rebuilt in the Baroque style.

The abbot Mauritius Moritz had the one demolished against the will of the convent. He had designed a new church himself, but did not manage to realise its construction during his lifetime. His successor took care of the new building.

The church of St. Verena was built between 1777 and 1786. It combines elements of the Baroque with those of Classicism. For example, in the design of the high altar, which is by Franz Xaver Feuchtmayer the Younger (1735 to 1803).

The painter and architect Januarius Zick (1730 to 1797) took over the rich pictorial decoration of the church.

The pews, decorated with numerous symbols, were created by Andreas Etschmann in 1692. It depicts all the founders of the order in the back row. The pews were taken over from the previous building and adapted to the new church in 1784.
Klosterhof 5/1
88430
Rot an der Rot
You cycle along the Rot to Eichenberg, then on via Berkheim to Memmingen. Here you will pass the Westertor, which was built as a town gate as early as 1150, when Memmingen became a town. In the 14th century it was replaced by a saddle roof gate. After it came under fire during the Thirty Years' War, it had to be renewed in 1648. It was rebuilt in 1660 to its present form.

If you have a rental bike from iSi Bike Serviceshop, you should have returned your bike by 17:30. But then treat yourself to a cosy end to the day at Josepp's Brauhaus, the inn located just 180 metres from the bike shop on Schweizerberg.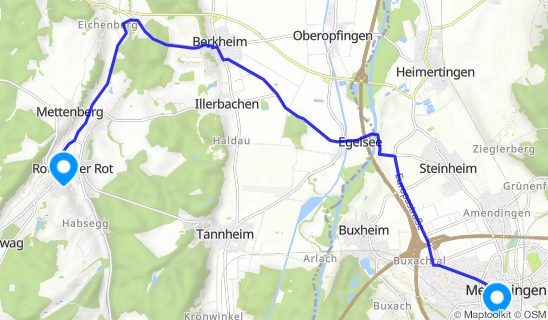 The modern building surprises with a hearty Upper Swabian inn where they also brew their own beer. Initially, the brewery traded under the name Barfüßer,

Three beers are brewed here, a pale and a dark bottom-fermented beer, as well as a top-fermented Hefeweizen.

The food is plentiful and the prices moderate. The restaurant is very popular, and reservations are requested for groups of four or more. However, it is always possible to take a seat on the terrace without a reservation.
Am Schweizerberg 17

87700
Memmingen
Email Address:
info@joesepps-brauhaus.de
Monday:
11:00am - 12:00am
Tuesday:
11:00am - 12:00am
Wednesday:
11:00am - 12:00am
Thursday:
11:00am - 12:00am
Sunday:
11:00am - 12:00am
Friday:
11:00am - 01:00am
Saturday:
11:00am - 01:00am
Tour ends on
From Josepp's Brauhaus, just like from the bike rental, it is only an 11-minute walk to Memmingen railway station. Well fortified, you can take your train from here for the comfortable journey home.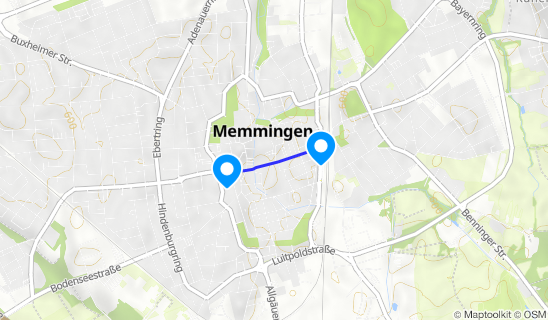 Tour map
Bahnhofstr. 3
87700 Memmingen
More destinations
A river trip is a special treat - by bike as well as by boat. This tour offers you both. From...
On the disused railway line between Rothenburg ob der Tauber and Dombühl you cycle through the...
Views and insights are offered by this extensive cycle tour, which requires a bit of fitness, but...
This tour is something for beer lovers and landscape enthusiasts. Three breweries are visited, in...
Gentle hills, wide views into the countryside, even as far as the Alps, fields, ponds, lakes and...
As you gaze through the window of the train at the Upper Bavarian Alpine foreland and the Zugspitze...
On the upper Main there is a region affectionately called "God's Garden". In the middle of it all...
How close nature and culture are can be easily understood on this medium-difficulty cycle tour. You...
This tour through an open, gently undulating landscape takes you along the edge of two nature...
Discover the hidden gem of Bavaria - Miltenberg - by train. From magnificent medieval buildings to...
Share article

Email Copy link
Your bookmarks