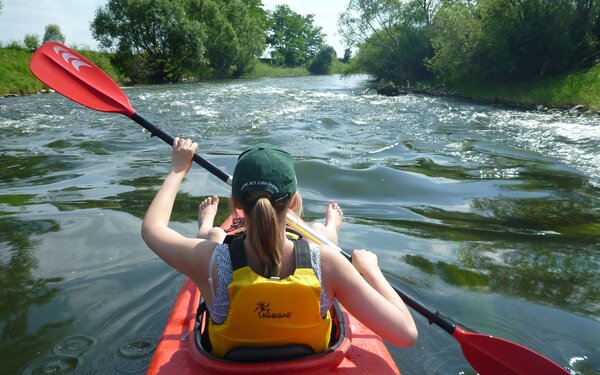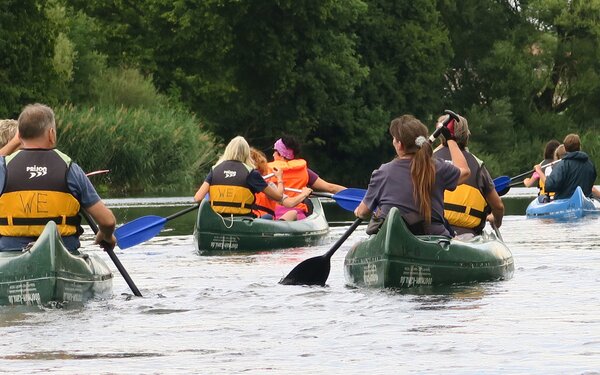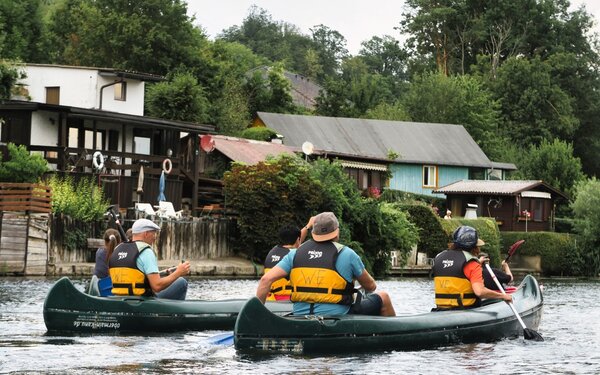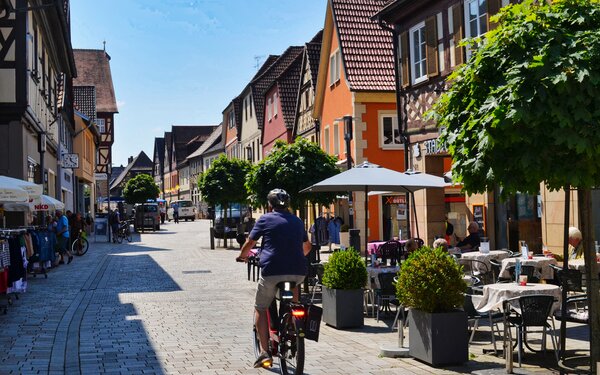 Key facts of the tour
The Main is also called the "Franconian lifeline", because the river with its wide bends crosses the region from east to west for 354 kilometres. Fields, forests and small towns with medieval charm line its banks. Water walkers can actively enjoy the nature and landscape. A paddling tour is probably most beautiful in spring - nature awakens and breathes new lust for life with its fresh greenery. Autumn also has its charms, when the forests in the Main valley turn their leaves.
The most convenient starting point for all active people who want to travel by train is Lichtenfels. Here there is a railway station, a boat hire shop and plenty of Main idyll. On the section between Lichtenfels and Hallstadt near Bamberg, water walkers have the still narrow river all to themselves and can follow the gentle bends. In addition, between Lichtenfels and Bamberg, there is only one obstructive weir on the 35-kilometre stretch near Hausen, where the boat has to be carried about 30 metres. Otherwise, there are many renaturalised areas where the river can once again be a river. So - get off the train and get to the paddles!
A canoe tour for nature lovers, adventurers, families and explorers
Start and end station
Start station
Bahnhof Lichtenfels
4 tour steps
19 km / 6 Stunden
End station
Bahnhof Ebensfeld
Our tip: Please make sure to check your train connection and the expected capacity before you start your journey.
Schedule
Tour starts on Bahnhof Lichtenfels
From the train station it is just a short kilometre to the boat launching point under the Main bridge Coburger Straße. Walk along the branch road to Badgasse. You will come to Coburger Straße, which you follow in a northerly direction, under the railway tracks, until you reach the meadows along the river. Here the kayaks from the canoe rental are already waiting for you, if a sufficient water level allows paddling on the Main and if you have booked a boat in good time.

When planning your trip, recreational paddlers and families should bear in mind that they paddle about 4 to 5 kilometres per hour. So for a day trip, plan on a maximum of 20 kilometres, including breaks and small explorations. Tips for great tours depending on your mood and physical condition are also available at the boat rental.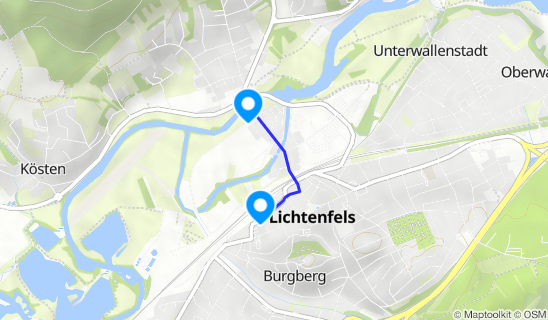 Canoe rental Obermain-Kanu
The canoe rental offers single and double kayaks as well as triple canoes for one or multi-day tours on the Upper Main. It is recommended to reserve the boats in good time, especially at weekends.

By arrangement, the boats can be used in Lichtenfels, in Hausen near Bad Staffelstein, in Michelau or even further upstream.
In addition to accessories such as life jackets, boxes and route maps, the service also includes passenger return transport on request (subject to a charge). Water hikers should note that the Main from Hausen on the Obermain Canoe Trail may only be navigated downstream (one-way tour).
Kreuzbühlstr. 11a
98215
Lichtenfels
Email Address:
mail@obermain-kanu.de
01.05. - 31.10.
Monday:
08:00am - 09:00pm
Tuesday:
08:00am - 09:00pm
Wednesday:
08:00am - 09:00pm
Thursday:
08:00am - 09:00pm
Friday:
08:00am - 09:00pm
Saturday:
08:00am - 09:00pm
Sunday:
08:00am - 09:00pm
A great family paddle tour, for example, leads 18 kilometres on the Main to Ebensfeld, from where you can return by train. Since it goes downstream, and if the water level and current are good for the canoeists, the very sporty can easily make it all the way to Bamberg in one day. But don't worry, the river is a so-called toothed water, so it's just right for paddling trips with children. The route follows the Main in beautiful bends towards Ebensfeld. "God's Garden on the Obermain" is the name of this stretch of land, which spreads out here like a huge landscape park with picturesque villages, colourful orchards, rugged rock formations and lively rushing streams.

Shortly before you have to take the boat out of the water at the weir in Hausen, which is always a real experience for children, you are treated to a breathtaking view: the former Banz Monastery rises majestically above the Main meadows.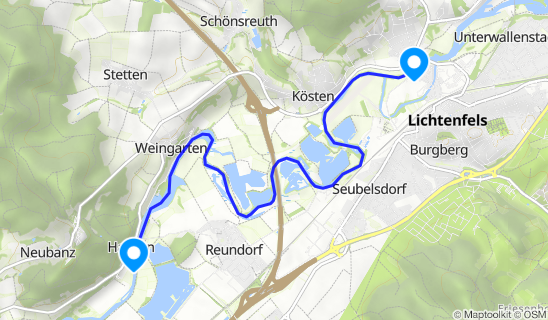 Banz Monastery Educational Centre
Banz Monastery is a former Benedictine monastery. It was founded in 1070 and was an important religious and cultural centre in the region until its secularisation in 1803.

The monastery building is an important example of southern German baroque architecture. The monumental complex with its two church towers on the hill can be seen from afar. Today it houses the modern education and meeting centre of the Hanns Seidel Foundation as well as a museum. The monastery church is particularly worth seeing, with its magnificent stucco work and frescoes. The museum in the consular building in front of the church tells the story of the monastery and displays a fossil collection and an oriental collection. Changing special exhibitions present contemporary art.

Today, Banz Monastery is also a popular destination for tourists and pilgrims interested in history, art and culture.
Kloster Banz 1
96231
Bad Staffelstein
01.03. - 30.11.
Tuesday:
10:00am - 04:00pm
Wednesday:
10:00am - 04:00pm
Thursday:
10:00am - 04:00pm
Friday:
10:00am - 04:00pm
Saturday:
10:00am - 04:00pm
Sunday:
10:00am - 04:00pm
A little tired from paddling? Then you deserve some refreshment! At the Gasthof Zum Anker in Unnersdorf, a district of Bad Staffelstein, you can moor just before the bridge and enjoy a break.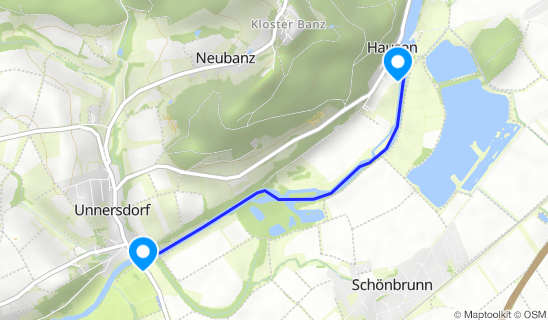 The Gasthof directly on the Main is a 6th generation family business. Seasonal and fresh dishes are served here with ingredients from producers and farmers in the region: Franconian cuisine with and without meat, fish and dishes for children. The grown-ups will certainly enjoy a beer from the regional Trunk brewery with their meal.
Am Main 3
96231
Bad Staffelstein
Email Address:
gasthof.anker@gmx.de
Monday:
12:00pm - 02:30pm
and 05:00pm - 10:00pm
Tuesday:
12:00pm - 02:30pm
and 05:00pm - 10:00pm
Wednesday:
05:00pm - 10:00pm
Thursday:
05:00pm - 10:00pm
Friday:
05:00pm - 10:00pm
Sunday:
11:30am - 02:00pm
and 05:00pm - 10:00pm
Or would you prefer something sweet? Café Zollhaus is right next door.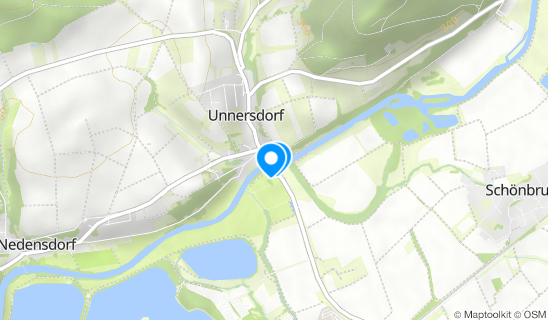 Café Zollhaus Bad Staffelstein
Coffee, tea and chocolate specialities, homemade cakes and tarts are available to accompany the magnificent view of the Main from the balcony. Delicious ice cream sundaes and a small snack from the soup kitchen round off the offer.
Am Main 4
96231
Bad Staffelstein
Email Address:
frankschroebi@aol.com
Tuesday:
12:00pm - 05:00pm
Wednesday:
12:00pm - 05:00pm
Thursday:
12:00pm - 05:00pm
Friday:
12:00pm - 05:00pm
Saturday:
12:00pm - 05:00pm
Sunday:
12:00pm - 05:00pm
Tour ends on Bahnhof Ebensfeld
With renewed strength, you now make the final spurt onto the Main, past the Bad Staffelsteiner Seenplatte, under railway and motorway bridges. At the Veitsbergblick rest area you can wave to cyclists who stop here. Then the last bend in the Main awaits you before this beautiful paddle tour ends at the Ebensfeld entrance and exit. Either have the boat rental company pick you up with your kayak and bring you back to Lichtenfels. Or you can walk the 900 metres or so to Ebensfeld station and take the train back from here. The asphalt path along the Main takes you directly to Bahnhofstraße.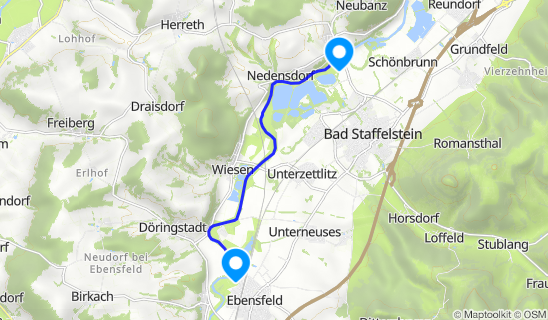 Tour map
Start
Bahnhof Lichtenfels
Bahnhofsplatz 3
96215 Lichtenfels
More destinations
Beer garden tables in the shade of old chestnut trees, beer and hearty dishes all add up to a...
The bike tour leads through idyllic villages and picturesque pond landscapes to Höchstadt an der...
You have never experienced Würzburg like this before! This city tour combines important sacred and...
Wonderfully refreshing: the beer garden at the Seehof hotel is only three minutes from Herrsching...
Summer in the city: "Knaus Campingpark" is incredibly peaceful, despite being right in the middle...
Exploration tour with the Brombachsee. Set sail on the MS Brombachsee trimaran and get to know the...
Pyjama party in a huge tent: The Tent is not your average camp site, but actually a large tent with...
Discover unique highlights along the Danube by bike from Regensburg. Ludwig I's national monument...
Experience culture and nature around the Spessart metropolis! This tour takes you along the...
Go on a fascinating journey through time by bike: from an impact crater to miraculous pilgrimage...
Share article

Email Copy link
Your bookmarks