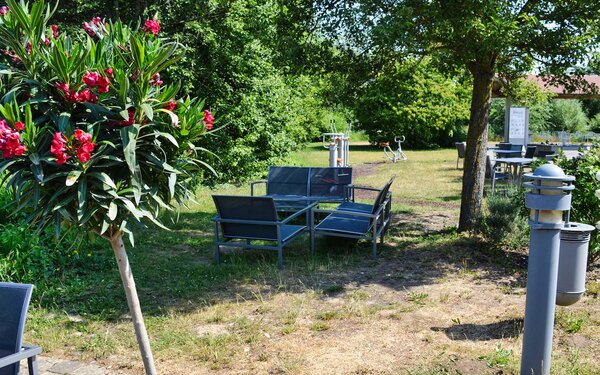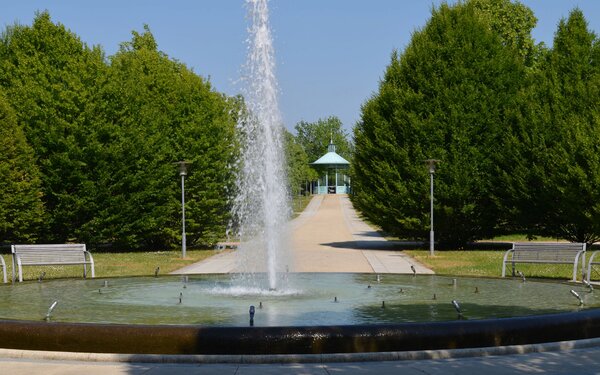 Key facts of the tour
Get off the train - and into the wellness paradise to relax, improve your health or simply have a wonderful time. It's less than a five-minute walk from Bad Staffelstein station to the Obermain Therme in the spa gardens of the spa town. And then it's time to dive in and switch off ...
A wellness_relaxation for families and bon vivants
Start and end station
Start station
Bahnhof Bad Staffelstein
1 tour steps
1 km / 4 Stunden
End station
Bahnhof Bad Staffelstein
Our tip: Please make sure to check your train connection and the expected capacity before you start your journey.
Schedule
Tour starts on Bahnhof Bad Staffelstein
Walk through the railway subway towards the Kurpark - and there you are.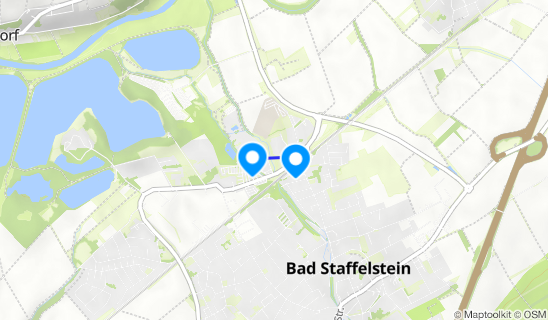 Obermain Spa Bad Staffelstein
Regenerate, vitalise, relax, care, heal - is the motto of the Obermain Therme Bad Staffelstein. The spa has several indoor and outdoor pools with different water temperatures as well as saunas and steam baths. Freshwater pools, relaxation areas, media lounge, stream and herb garden complete the offer.

The thermal brine comes from a depth of 1,600 metres and, with a temperature of 52 degrees and 9 percent salt content, is Bavaria's warmest and strongest thermal brine. The brine is rich in minerals and trace elements that can have a healing effect on skin diseases, rheumatism and respiratory complaints, for example.

The ThermenMeer offers a total of 25 indoor and outdoor pools and the natural bathing lake for soothing relaxation. A light grotto, waterfall and massage jets add variety to your stay. There are also special offers such as Ayurveda massages and beauty treatments.

In SaunaLand, guests can choose their favourite sauna from eleven themed saunas. The Valo bath, for example, where light, sound, scent and warmth combine to create a holistic experience, caresses the soul. A small graduation house has been integrated into the Suola sauna, the salt sauna, so that sauna-goers can inhale deeply nebulised salt. Outside, the Maa sauna is the hottest place on the Obermain - over 100 degrees Celsius prevail in the wood-fired earth sauna.

However, children can only visit the spa from the age of 10 accompanied by an adult due to its high brine content, with the exception of children aged 6 to 9 with a doctor's certificate.

Discount: On presentation of a DB ticket valid for the day, the Therme offers a discount of 1 euro on the admission price.
Birthday children (of any age) receive free admission to the ThermenMeer and SaunaLand on their day of honour on presentation of their ID.
Am Kurpark 1

96231
Bad Staffelstein
Email Address:
service@obermaintherme.de

Monday:
08:00am - 09:00pm
Tuesday:
08:00am - 09:00pm
Wednesday:
08:00am - 09:00pm
Thursday:
08:00am - 09:00pm
Friday:
08:00am - 11:00pm
Saturday:
08:00am - 11:00pm
Sunday:
08:00am - 11:00pm
Tour ends on Bahnhof Bad Staffelstein
After this soothing break from everyday life, it's back to the station and home by the same short route. And it is guaranteed that it will not remain with just one visit ...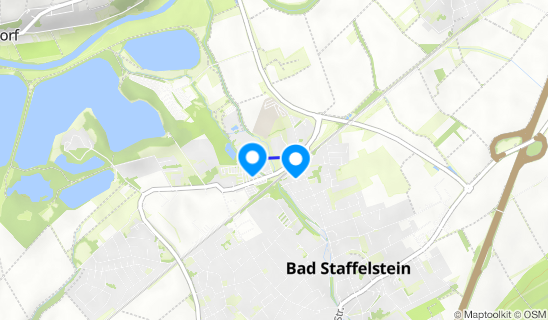 Tour map
Start/Ende
Bahnhof Bad Staffelstein

Bahnhofstr. 101

96231 Bad Staffelstein
More destinations
The Cantina Diakonia in Munich employs people who are down on their luck in the job market.
Andechs Monastery with its bell tower is situated on the east bank of the Ammersee lake. Beer has...
Do you want a taste of the Caribbean on your day at the thermal bath? The palms and azure water at...
Be warned: these excursion tips may not be to vegetarians' tastes. Because it's all about sausages...
"Drei im Weggla" – Nuremberg residents know immediately what this means: three small, crispy...
The Milzwurst (spleen sausage) is most beloved in Lower Bavaria. What makes it so special? Take a...
Snakes, lizards, tortoises and poison dart frogs – over 135 animals live at the Reptilienhaus...
Sportland Erlangen leisure centre is a five-minute walk away from the station. How about a quick...
Fancy relaxing in nature or enjoying a cappuccino with a fifty's flair? For the former, we...
Since 2012, Aschaffenburg main station has been graced with the title of "Station of the Year".
Share article

Email Copy link
Your bookmarks