A special party for a special girl or boy
It's your very special day! And here's a special party for you
Give kids variety on their special day. Outdoor activities, museums or indoor playgrounds – all over Bavaria, there are exciting destinations that are ideal for a very different kind of birthday celebration.
Kids love celebrating a birthday somewhere other than at home, and this can also be lots of fun for parents. It's so easy to catch a train to the selected location, where entertainment experts take over every aspect of the organisation.
Located right in the heart of the old town, Nuremberg's toy museum has a range of different activities for children aged 4 and up. There's so much to choose from, and there's even a "horror package" for brave souls aged 8 and over. Visits to the "World in Miniature" section are available for groups of up to 12 children - who get to bring a favourite cuddly toy as their "plus one" (along with parents too). Here, exciting competitions and fun challenges teach children about the world of toys and their history.
If the great outdoors are calling, the Grüntensee climbing wood in the Allgäu region offers an unforgettable outdoor setting for a party. After health and safety training as an introduction, the birthday boy or girl can take 6 friends aged 6-13 up to the high-rise garden in the treetops.
Anyone who wants a roof over their head when celebrating can head to indoor Sport in Fürth. It offers a range of customised action packages with everything that a kid could want for their big day. There are classic activities like mini-golf and beach volleyball, less common pursuits like football billiards and bubble soccer, obstacle courses for hoverboards and a radar for measuring the fastest shots on the football pitch. The venue also makes sure that there's plenty to eat and drink all day long.
The museum workshop at Würzburg's Kulturspeicher culture centre specialises in creative activities. Anyone who has their party here gets to discover exciting works of art and learn what they can do with paintbrushes, clay and other media. The centre puts together different party packages to match its current exhibitions. These give children aged 6 and over the opportunity to build, paint and draw their very own works of art. It is possible to bring your own food and drinks to the Würzburg party venue.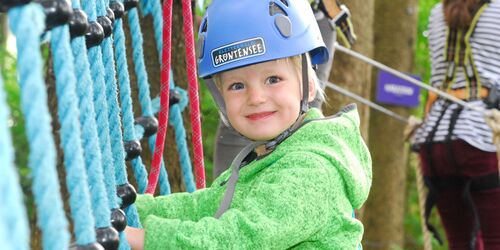 Climbing with the little ones
The Himalayas are in Bavaria: that's the name of the 15-metre-high course for experienced climbers in the Grüntensee Climbing Forest. Too high for you and certainly nothing for the kids? There are a total of nine other climbing routes and even a slackline course in this high ropes course.

Next station
Wertach-Haslach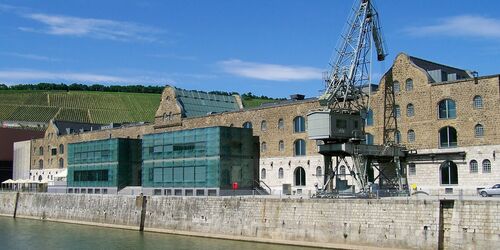 Kulturspeicher Museum in Würzburg
Located right beside the river Main, the old grain storage facility combines an industrial atmosphere with prize-winning modern architecture. The result: a lively location that forms an impressive setting for art and culture.

Next station
Würzburg Hbf (main station)
On the northern edge of the Augsburg - Western Woods Nature Park, this varied loop offers you... There is a long tradition of mining in the Allgäu. And for this reason an entire museum village... The life of knights in their sights: on an excursion to the Allgäu Königswinkel, children can... Hotel Orphée in Regensburg has true "star" quality. After all, it has played host to countless... Do you like the mystery of the forest and the diversity of nature? Then this railway traveller's... From fields to mountains: the spectacular Höllental gorge leads through dramatic scenery to a... The various stages of the Altmühltal Panorama Trail are among the most versatile routes for hiking... The Umadum Ferris wheel offers young and old a breathtaking view of the Isar metropolis and the... Just a short walk away from the station lies the "Jahnufer" riverbank (in Neu-Ulm), and from here... The idyllic region of Gablingen is located around ten kilometres north-west of Augsburg. You can...
Share article

Email Copy link