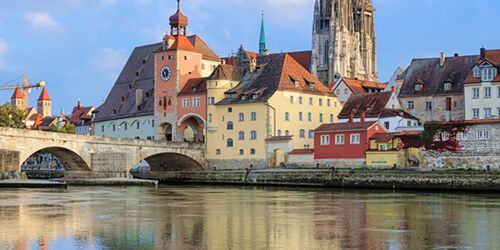 Regensburg: small and beautiful, the town on the banks of the Danube has so much to offer, and even a 60-minute high-speed tour will acquaint you with the main sights. These include the cathedral, Bavaria's most important Gothic cathedral, the Wurstkuchl restaurant or the world's oldest "sausage kitchen", and the Stone Bridge, the symbol of the city. An hour is fun, but you should really make more time for the medieval city and its other monuments, such as St. Emmeram Palace with its ducal museums, and the famous Turmtheater theatre, which stages performances high over the rooftops of Regensburg.
The narrow, twisting alleys of the old town are home to scores of traditional little shops for you to browse, and you can admire the countless historical buildings as you stroll around. The town's architectural highlights include its patrician houses and towers, such as the "Golden Cross" on Haidplatz. We can only recommend a stroll along Regensburg's riverbanks as well, as the town's geography gives it an extra-special feature: it is the place where not one but two rivers, the Naab and the Regen, join the Danube. Particularly picturesque are the Obere Wöhrd and Jahninsel islands, located right beside the Stone Bridge. If you're looking for excellent cuisine, Regensburg has a lot for you: a meal with a side order of horror, fine French dining in Restaurant Orphée (virtually unchanged since 1896), or a small snack at Café Lila if you're stuck for time. But don't forget one thing: Dampfnudel Uli's eternally popular dumplings, which await you at the end of an easy 13-minute walk from the main station.
Here, your healthy get-away doesn't end after class. Discover Fürth's green oases by train. This tour takes you through idyllic parks and natural river... Pitch in at the "Der kleine Bauernhof" farm – here is where all your "Little House on the... Garmisch-Partenkirchen is the perfect place for anyone who wants to rise above it all, but in a... Slow speed ahead! Take a ride in a Zeppelin balloon and you'll get more than just a sightseeing... The Tegelberg mountain is situated within the former kingdom of Ludwig II, Bavaria's fairytale... The town of Kochel built a museum in honour of the famous Expressionist painter Franz Marc. With an... A hike with cultural enjoyment - a sculpture park and colourful half-timbered houses await you on... The pedestrian zone in Augsburg gives rise to a particularly exciting shopping experience, due to... Even though your intention may be to have a gentle stroll, you'll find that your pace will...
Share article

Email Copy link
Your bookmarks